Life stories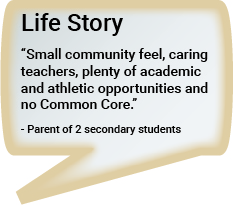 The Trinity story is, in reality, a collection of stories — intertwining narratives of students, parents, friends, and teachers that are being written every day. Here you can listen to a few of those stories as told to Jeannine Kelley, Marketing and Public Relations Coordinator.
To learn more about enrolling at Trinity, please read this invitation from our Director of Admissions Beth Barill or fill out an Inquiry Form.
Pierce's Story from Trinity Christian School on Vimeo. To learn more about Pierce, click here.
Grandmother and staff member Helen shares her Trinity story.
Kalyn's story
Teacher Kalyn Pierson has a long history with the school as both a faculty member and parent of a graduate. Read more of Kalyn's story here.
In this clip, she responds to the question: "How will it feel when your granddaughter begins attending Trinity in the fall?"