Alumni News
Posted on May 19, 2014
Johanna Collins-Wood '05 has recently relocated to London, England to work as a lawyer in the London office of Davis, Polk & Wardwell, a New York-based US law firm.
At Davis Polk, Johanna practices US corporate law for large European banking and corporate clients. Her focus is on capital markets, particularly initial public offerings in both Europe and the United States. In London, Johanna attends an evangelical Anglican church and has served as a leader for the church's Life Course, an eight-week course for people who are new to church and would like to explore what it means to have a relationship with Jesus.
Johanna received her J.D. from Duke University School of Law in 2013, where she also received an LL.M. in International and Comparative Law. Johanna received a bachelor of arts in religion from Duke University in 2009, where she graduated magna cum laude and was elected to Phi Beta Kappa.
Johanna credits her education at Trinity Christian School with instilling in her the determination to always do two things in life: seek out the will of the Lord and do it wholeheartedly, and always dream bigger than what you can accomplish alone.
Posted on March 6, 2014
Waynesburg University junior and Trinity alumnus Hayden Giuliani '11 received second team honors for the 2013-14 All-PAC Women's Basketball team. A member of the 1000 point club at Trinity, she is the 2013-14 PAC leader for 3-point field goals made and ranks second for 3-point field goal percentage. Hayden is majoring in Athletic Training at Waynesburg.
When asked about her recent recognition, she expressed, "This honor means a lot because it shows all the hard work I've put in to truly improve the gift God has given me. Without Him, it wouldn't have been possible."
Posted on February 24, 2014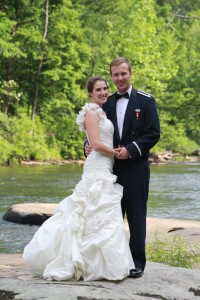 Trinity Alumni Kris Warner and Maggie Graham were married on June 8, 2013. Kris, a Second Lieutenant, is attending graduate school at the Air Force Institute of Technology in Dayton, OH where he studies Computer Science and Electrical Engineering. Maggie is working as a staff nurse in the Critical Decisions Unit at Kettering Health System, also in Dayton.
Kris graduated from the United States Air Force Academy in May 2013 with a bachelor's degree in Computer Science Engineering. He served as Squadron Commander his senior year. Kris is the current Student Body President at AFIT.
Maggie graduated Magna Cum Laude from WVU School of Nursing in May 2013.  She was inducted into the Sigma Theta Tau International Honor Society of Nursing her junior year. Maggie received the BSN Alumni Leadership Award her senior year and served as Co-President of the Student Nursing Association.
Posted on January 13, 2014
Smiles and lively conversations marked the annual alumni reception. Trinity graduates enjoyed seasonal refreshments while visiting with one another and their former teachers before the TCS community dismissed for Christmas break.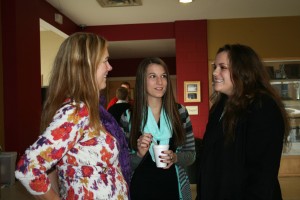 Posted on November 4, 2013
In high school, Nate Webster (class of '07) was an active and engaged Trinity student, known for his community service and environmental concerns. A natural leader on campus, it was fitting that Nate received and accepted an appointment to the United States Military Academy at West Point his senior year.
As a current member of the military, Nate is no stranger to a life of service. Once again, he wants to give back. Grateful for his educational opportunities, Nate has set up a Least of These Scholarship to be awarded to a 2013-14 senior of Trinity Christian School. This $500 award will be given to a student who demonstrates "a dedication to selfless service, leadership, bettering oneself, improving the community both locally and globally, and pursuing a life of Christ-like service to the 'least of these' in our world."
We look forward to announcing the recipient of this scholarship during Trinity's Senior White Day on May 20, 2014. Thank you Nate for giving back to the Trinity Christian School community!