Crowd of witnesses
Posted on May 29, 2014
Last Friday morning, our middle and high school students gathered in the Trinity lobby. Holding signs of encouragement, they formed two lines to create a makeshift passageway for the state-bound high school track team to run through. Amid the cheers of their fellow students, the smiling athletes made their way through the serpentine to the center of the lobby. Then the students and faculty gathered around the runners to send them out in prayer.
The scene serves as a metaphor for the ceremonies that mark the end of the school year. On May 25th, the members of the Trinity Christian School Class of 2014 received their diplomas in front of an enthusiastic crowd made up of parents and grandparents, aunts and uncles, teachers and alumni. Befitting the occasion, the tone was more serious than the track send-off. But, the crowd witnessing the event acted as a figurative banner, proclaiming unspoken messages to the new graduates through their smiles, tears, and cheers.
You aren't alone. We are behind you. We are praying for you. You are LOVED.
Our students have a community surrounding them, cheering them on through the rigors of a difficult subject or the anxiety of entering the next grade level. As believers, we also have a "cloud of witnesses" who have gone before us, cheering us on to finish the race. (Hebrews 12:1)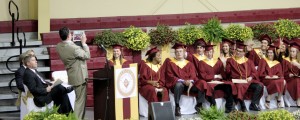 Speaker Tony Caridi tweeted a "selfie"of the TCS Class of 2014 to his Twitter followers prior to delivering the commencement address.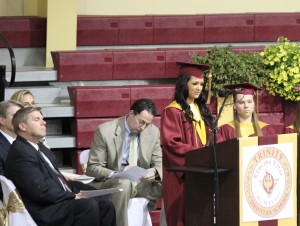 Salutatorian Meagan Triplett encouraged underclassmen to make the most of their time at Trinity.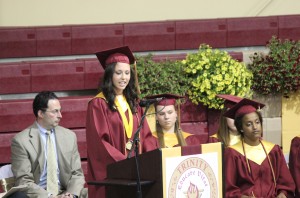 In her speech, valedictorian Alexis Zini shared fond memories of her classmates and teachers.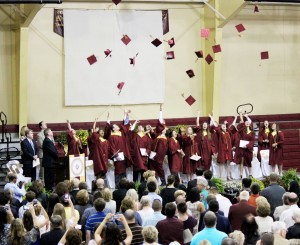 Congratulations to the Trinity class of 2014!  We will miss you!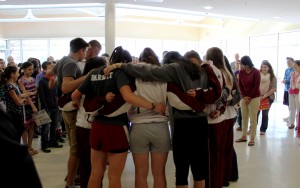 The track team huddles in prayer, surrounded by classmates and teachers, prior to their trip to the State Track Meet. All of our student-athletes performed well, breaking school records and achieving personal bests. Four of our runners received All-State honors, with Abbie Barnett and Piper McLaughlin placing in two events, and Alexis Zini and Olivia Kelley each placing in one.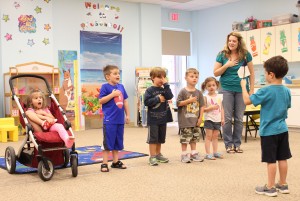 Pre-K3 students recited the pledge to the Christian flag for their parents on the last day of classes.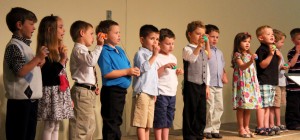 For their closing program, Pre-K4 students performed songs and recitations, eliciting tears and smiles from the crowd of family and friends.