Facilities Master Plan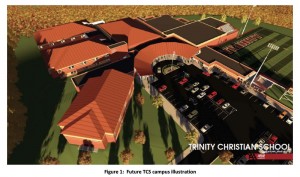 The state-of-the-art facilities that currently house the daily operations of Trinity Christian School are a testimony to God's abundant provision and care. As we look to the future, the TCS Board has developed a long-term list of master plan priorities for the facilities of the school. Our first priority is to retire the current debt structure, then focus on raising funds to implement the future construction plans (exception would be if someone wanted to fund one of these facilities in its entirety). Please join us in asking for God's blessing on our plans and efforts.
To view our Facilities Master Plan click here.