Four Compete at State Science Fair
Posted on April 7, 2016
Spring Break is intended to be just that: a break from the routine of school work; a time to relax, even plan a getaway. But for four Trinity freshmen, Spring Break presented an opportunity to shine at the West Virginia State Science and Engineering Fair. Over 50 students from all over the state gathered on Saturday, April 2 at Fairmont State University to present their projects for judges from Dominion, Fairmont State University, US Department of Energy NETL, and West Virginia University.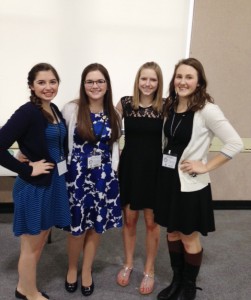 "It was really cool to see other people's projects…and get to interact with people from other schools," said Emma Chase. Chase, who placed first in the Microbiology division, also received a special award from the South Central Association for Clinical Microbiology.
Students from grades 9 through 12 competed in 15 divisions ranging from Animal Sciences to Physics and Astronomy. TCS student Kate Dlugos placed second in the Biochemistry division and Belén Turak placed third in the Materials Science Engineering division. Morgan Mullens represented the school in the Physics and Mathematics division.
"We are so proud of these girls," said Science and Math Department Chair Debbie Dennis. "Dr. Campbell's expertise has led the ninth graders to excel, resulting in their placement at the state fair." To qualify for the state fair, the Trinity students competed at the
regional fair
 in February.