Hoop-a-thon 2018
Posted on January 29, 2018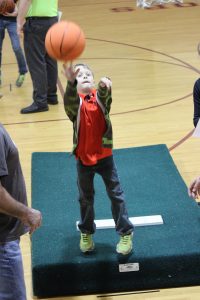 Hoop-A-Thon is a fun, one-day, school-wide fundraising event that benefits Trinity Christian School's general fund. Leading up to the day of Hoop-A-Thon (March 2), students collect sponsors on a per-basket pledge or one-time donation basis in order to participate. On the day of the event, students join their classmates to shoot basketball hoops and/or hula-hoop for a 5-minute period. Pledges per basket are then calculated for a total donation, and students are encouraged to follow up with their sponsors to collect any outstanding donations. Throughout the event, students are encouraged to do their best and have fun!
Our goal as a school is for each student to gather a minimum of 5 sponsors at $10 each, or $50 total in sponsorships. If all our students and families work together in gathering sponsors, we can reach our goal of $15,000 to benefit Trinity's mission and student programs!
NEW! Sponsors may also submit their one-time donations or pledge totals online via PayPal by clicking here. Please be sure sponsors leave a memo in the special instructions section with the Student Name and Grade of whom they sponsor. For further information on the event rules, equipment specifications, and tips for fundraising, please click on the links below or see Resource Documents in ParentsWeb.
Rules and Equipment for Elementary Hoop-A-Thon
Please help your child to submit their sponsorship forms in by Wednesday, February 28, 2018, in order to participate. Forms can be submitted to the student's teacher.
If you have any questions about Hoop-A-Thon, please email Kimber Morgan at kmorgan@tcswv.org.