Hoop-A-Thon 2023
Posted on January 29, 2018
Hoop-A-Thon 2023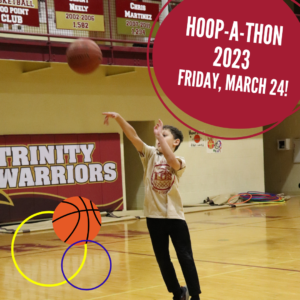 We're so excited for this year's Hoop-A-Thon! The Hoop-A-Thon is a fun, school-wide fundraising event where students shoot as many baskets as they can (or hula-hoop for as long as they can) within a five-minute period! Students are asked to gather sponsorships for our school in order to participate. Our goal as a school is for each student to gather a minimum of eight sponsors at $10 each, or $80 total in sponsorships. If all our students and families work together in gathering sponsors, we can reach our goal of $25,000 to benefit Trinity Christian!
When gathering sponsors, students must use the official Hoop-A-Thon "Sponsor Me" form and include all requested information. Sponsors may donate online via Givebutter (accepts Paypal, Venmo, and credit/debit card payments) by clicking here. Sponsors should: 1.) select "General Fund" and 2.) under "Add a message", write "Hoop-A-Thon" along with the Name/Grade of the student whom they are sponsoring.
If you need a quick and simple way to gather sponsors, set up a Facebook fundraiser page! Simply follow the step-by-step directions in the document below or watch the how-to video:
Facebook Fundraiser Page Directions
Facebook Fundraiser Page: How-To Video
For registration forms and further information on the Hoop-A-Thon, please click on the links below.
Registration/Sponsorship Forms:
Grade Level Information Packets:
If you have any questions, please email Olivia Kelley at okelley@tcswv.org.