Pass it on
Posted on June 16, 2016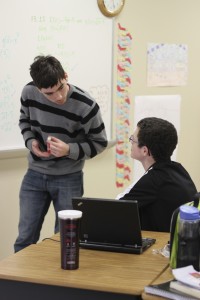 Did you ever hear the saying, "It's too good not to share"? Whether it's good news, helpful knowledge, or a valuable skill, why keep it to yourself when you can pass it on?
Recent TCS graduate Josh Gilliland exemplified that motto when he mentored younger students in computer coding this past school year. Josh's efforts resulted in the school receiving a "Youth Leadership" award at the annual Monongalia County Partnership in Education breakfast. We are grateful to Josh for sharing his talents!
Josh is one of many Trinity secondary students who made the honor roll for the second semester. To view the complete list, click here. Congratulations to all!
Speaking of good news, we're spreading the word about Trinity through our Facebook page. We are closing in on 1000 page likes, so if you have yet to do so, please like our page and share our video.
It's really too good not to share.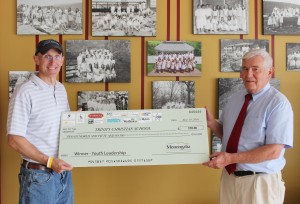 Board Chair Todd Dlugos and Interim Administrator Charlie Byrer pose with the Partnership in Education award recognizing Trinity in the area of Youth Leadership.
Rising juniors Ellena Gemmen and Emily Saurborn were selected to attend the HOBY State Leadership Seminar in Charleston, West Virginia. They had the opportunity to meet and learn from state leaders during the 4-day seminar.
We are thankful for the continued support of our Partners in Education! Thanks to My Bank! First United in Sabraton, the high school basketball team raised over $500 washing cars.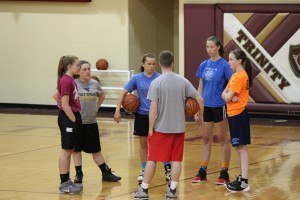 The three-week summer practice session is underway. We are grateful for coaches who impart guidance, knowledge, and encouragement to our student-athletes.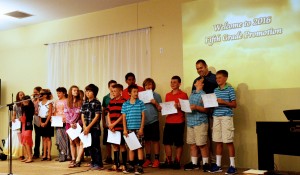 Fifth-grade students were honored at their promotion ceremony earlier this month. During the event, they had fun passing down things such as their sense of humor, their desk, etc., to their fourth-grade counterparts.