Teamwork
Posted on January 21, 2016
How long would it take for a fifth-grader to weave 100 paper hearts by themselves? Sounds like a daunting task for someone to tackle on their own. Yet, when a whole class works together it's not so impossible. Teamwork. Working side by side in the classroom, in service, and in athletics, our students can accomplish great things.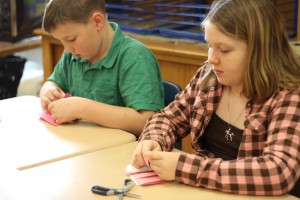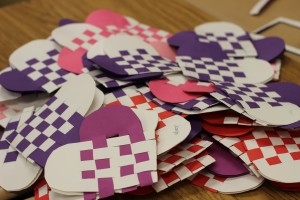 Thanks to the combined efforts of the fifth-grade students, a hundred lovely woven hearts will be filled with treats and delivered to a local nursing home in time for Valentine's Day.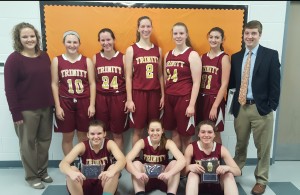 Teamwork paid off for the high school girls' basketball team. They placed third in the St. Marys tournament held on January 15 and 16. Great job, ladies and coaches!
A work in progress, this vibrant abstract painting is the collaborative effort of 23 high school art students.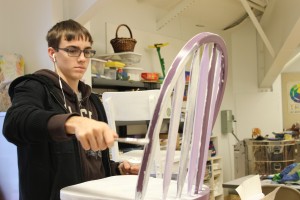 Students are already working together to create artworks to be sold for the Arts Gala fundraiser, which will take place in the Spring.
High school English students are putting their own spin on Shakespeare's Macbeth when creating videos for a group class project.
The school walls are a continually revolving art exhibit. Love seeing our students' work adorning the various hallways!