Trinity to host Fall Open House
Posted on October 18, 2016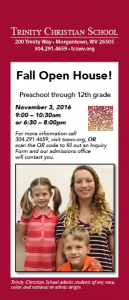 We are excited to welcome prospective families to Trinity on November 3, 2016, to one of our Fall Open Houses. We offer a morning session from 9:00am to 10:30am and an evening session from 6:30pm to 8:00pm. Students and parents will have an opportunity to meet the staff, tour the building, and learn more about our Pre-K3 through twelfth-grade program.
If you plan to attend our Open House, please complete our Inquiry Form as this serves as our registration. Not to worry if you decide to come at the last minute as registration will be available onsite.
For more information call 304.291.4659.
We look forward to welcoming you to Trinity Christian School!