Athletics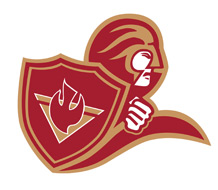 Athletics at Trinity Christian School are an integral part of the school's total educational experience. Our athletic programs provide coaches, students, and families with unique opportunities to live out the mission of TCS, which is "to help accomplish God's purpose in the lives of students, teachers, staff, and parents as disciples of Jesus Christ, resulting in a positive influence in our community, our nation, and the world."
Once an athlete commits to playing a sport at TCS, our desire is that it will be a great experience, rich with good memories, new friends, and life lessons to assist in serving the Kingdom.
We are a member of the WVSSAC (West Virginia Secondary Schools Athletic Commission) and the OVAC (Ohio Valley Athletic Conference). We offer Volleyball (girls), Cross Country, Soccer (co-ed), Golf, Football, Basketball, Softball and Baseball.
Athletic Physical Form
View and print the Athletic Physical Form. This completed form is required for any student to participate in athletic programs at Trinity Christian School.
Athletic Handbook
View parent/student Athletic Handbook – July 2014
WVSSAC Online
West Virginia Secondary School Activities Commission website (www.wvssac.org). WVSSAC covers the progress of your school sports and activities by announcing schedules and ratings. There are also a number of sports clinics which assist our young athletes in fulfilling their expectations. Also included are member schools and what it takes to be eligible.
All in all, WVSSAC Online is geared toward informing you about this program and providing immediate and accurate coverage of your favorite sport and activity in your local and surrounding area.
OVAC Online
Ohio Valley Athletic Conference (www.ovac.org). It is the basic objective of the Ohio Valley Athletic Conference to continue the promotion of all high school athletics and to serve in the overall development of proper school relationship, scholarship, and sportsmanship within the Conference.