Preschool
This slideshow requires JavaScript.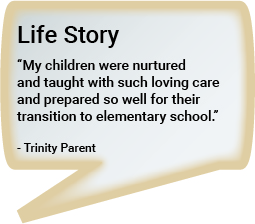 Whether running a race or building a home, there is no underestimating the importance of a good start. That is what preschool at Trinity Christian School is all about: laying a good foundation for a lifetime of spiritual, academic, and developmental growth. We understand that children learn best through play, exploration, and discovery guided by adults that understand their age and stage of development.
At Trinity we are
Child-Centered, providing a developmentally appropriate curriculum in a caring classroom environment.
Staffed by teachers with educational degrees and all classroom personnel are registered on the WV STARS Pathway for Professional Development Training and Registry System.
Committed to a curriculum that is grounded in standards-based educational practices. The WV Early Learning Standards Framework provides direction in learning across all domains and encourages an optimized learning environment using the Early Childhood Environmental Rating Scale.
Families may choose between two options for Preschool: a half-day session from 8 – 11 a.m. or a full-day session from 8 a.m. – 3 p.m. There is also a three or five-day option.
For those staying all day, we offer After Care services until 5:30 pm.
Pre-K3:  Children need to be fully potty trained, and three years of age by August 31
Pre-K4: Children need to be four years of age by August 31
Kindergarten: Children need to be five years of by August 31
For more information or to register, please contact our Admissions Office at 304-291-4659 or email Tyler Quinn at tquinn@tcswv.org or visit our Admissions Process page. 
Read what our parents are saying about Preschool at Trinity:
The preschool program is wonderful! The teachers are so caring and loving to my child. She has learned so much and  is ready for K5!!
The preschool program is great. I have seen a dramatic change in my son, as he learns ABC's, numbers and so much more! We love TCS!!
We are very thankful for the Pre K4 program at Trinity. (We) give thanks to the teachers for their hard work. Praise the Lord.