Technology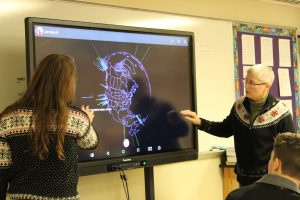 Trinity Christian School recognizes that technology is an integral part of education. From enhancing communication between students, parents, and teachers to expanding course offerings, technology is an area of emphasis and growth at Trinity Christian School.
Technology in the classroom includes Google G-Suite for Education with wi-fi access in every classroom and FACTS SIS, our school management system. The school also utilizes Promethean boards in the classroom. Additionally, online learning opportunities are available for interested students.
Google G-Suite for Education
Google G-Suite for Education provides our students and teachers with productivity tools designed for the classroom. G-Suite is used schoolwide from pre-K through 12th as well as by the staff and administration.  Students in grades 3 through 12 have Trinity Christian School G-Mail accounts with access to Calendars, Google Classroom, Google Docs, and Google Drive.
FACTS SIS is a web-based school management system that enables Trinity Christian School to share data among the administration, the classroom, and the home. Enrolled students and families receive a password for the Trinity FACTS SIS portal, providing secure access to information such as class schedules, homework assignments, and grades.