Alumni News
Posted on October 31, 2023
It is amazing how things in life come full circle! The school had a recent visit from Mrs. Linda Jackson,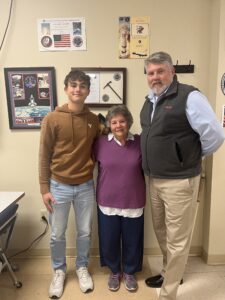 widow of William "Bill" Jackson, for whom the WV BEAR missions are named. During Mr. Jackson's long and successful career with NASA, he met and mentored TCS STEM coordinator Marcus Fisher. After her husband's death, Mrs. Jackson, a former TCS math teacher, donated numerous awards and artifacts collected by her husband over his years of service at NASA. They now adorn the walls of our STEM lab and will serve as inspiration for our students! When Mrs. Jackson served the school years ago, who would have imagined that our STEM students would be working on a NASA mission named after her husband?
Posted on September 21, 2022
Trinity Christian School is celebrating 25 years of Educating for Life! As a part of the year-long celebration, we invite alumni of Trinity High School and Trinity Christian School to be our guests for the Homecoming Game on October 14, 2022. Kick-off is at 7 p.m. Alumni and a guest can receive complimentary tickets to the game by registering. Children of alumni can attend for free, too! Registration is required to receive the tickets which will be reserved for registrants at the gate.
This is a great opportunity to meet up with old friends, enjoy light refreshments, and browse a display of memorabilia before and during the game.
We can't wait to welcome back our Warriors!
For more information, contact Jeannine Kelley at jkelley@tcswv.org
Posted on October 2, 2020
Our graduates continue to amaze us! We are excited to share a few updates on their accomplishments.
Torren Bricker '19 is currently pursuing a BSN at Penn State Fayette, The Eberly Campus. Torren is an anatomy tutor at her campus and a Clinical Assistant at Ruby Memorial Hospital. She was awarded two additional scholarships this spring: the Port Family Public Service Award for community service and the President's Freshman Award for earning a 4.0 cumulative GPA.
Leighton Croft '19 had a successful freshman year at Waynesburg University. She recently received her official letter welcoming her into the Professional Nursing program. A freshman basketball player, Leighton was named to the PAC (Presidents' Athletic Conference) Sportsmanship team. She played in 24 games and averaged 6.1 pts per game.
Sam Dale '16 graduated from the University of Toronto receiving an Honours Bachelor of Science in Bioethics and Human Biology. Sam has been published in Columbia University's Journal of Bioethics and is scheduled to give a presentation at the World Bioethics Conference in Porto, Portugal in March 2021. This summer, Sam plans to study at Yale University's Summer Institute in Bioethics. He has also been elected as President of the University of Toronto Gospel Choir.
Joshua Gilliland '16 graduated from Geneva College with a B.S. in Computer Science, a B.A. in Philosophy and a minor in Creative Writing. He plans to pursue an M.A. in Philosophy while working full-time in computer science with the eventual goal of earning a PhD in Philosophy. He and his wife Molly live in Beaver Falls, Pennsylvania while Molly completes her undergraduate education at Geneva College.
Jack Goellner '15 graduated Summa Cum Laude from West Virginia Wesleyan College and will attend the Joan C. Edwards College of Medicine at Marshall University in July 2020.
Jerid Jento '12 is serving in the Air Force. He and his wife live in Florida, where he currently awaits his one-year deployment.
Sophia Kenney '16 graduated Summa Cum Laude with Presidential Honors from WVU with a B.S. in Immunology and Medical Microbiology and minors in Communication Studies, Religious Studies, and Biology. In the fall, she will begin the Molecular, Cellular, and Integrative Biosciences Graduate Program at Penn State University with an emphasis in Immunology and Infectious Disease.
Katy Kessler '19 finished her freshman year at WVU as a Biology major in the Honors College where she made the Dean's List both semesters. Katy has since changed her major to English and was recently contacted by one of her English professors who suggested that she consider publishing one of her writings.
Hannah Keyser '16 graduated Summa Cum Laude from WVU with a Bachelor of Science degree in Nursing and a minor in Forensic and Investigative Sciences. Hannah has accepted a nursing position with WVU Medicine's HVI on the Cardiovascular Intensive Care Unit and will start there this summer. Hannah has served on the board for the Health and Wellness Commission for the city of Morgantown for the past year and a half and currently holds the position of secretary.
Christian Moats '16 graduated with honors with a Bachelor of Science in Biology from Salem University.
Jalen Wimer '19 completed his second semester at WVU, majoring in Exercise Physiology
Posted on October 6, 2017
Approximately 150 guests exchanged conversation, laughter, and memories as they gathered at the school for the 20th Celebration on September 30, 2017. Following a short program, friends, colleagues, and alumni had an opportunity to reconnect, enjoy light refreshments and view displays of memorabilia situated throughout the building. The displays included a timeline of artifacts from the past twenty years and stations devoted to Arts, Athletics, Academics, and Activities.
The program featured a video of testimonials from Trinity alumni and a closing prayer of rededication delivered by one of the school's founders Dr. Nabil Jabbour.
This slideshow requires JavaScript.
Posted on June 27, 2017
The beginning of the 2017-18 school year marks twenty years since Trinity High School welcomed its first students in the late summer of 1997. To commemorate this landmark, the school will welcome back alumni, faculty, board members, founders, families, and friends for a program and open house on September 30, 2017. We are excited to gather together to celebrate God's faithfulness by remembering all He has done over the past two decades while looking forward to the coming years. Please call the school for more details or email trinitytwenty@tcswv.org.