Coach Lohmann Named Coach of the Year
Posted on January 25, 2022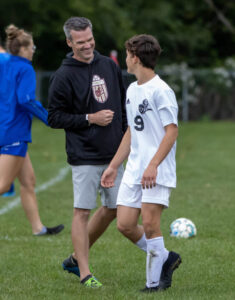 Trinity Christian School Head Boys Soccer Coach Dan Lohmann was named the 2021 West Virginia Coach of the Year for Private/Parochial schools by the United Soccer Coaches Association in his inaugural year of coaching at the high school level. Coach Lohmann's team, which included 3 girls, made school history when it brought home the Ohio Valley Athletic Conference (OVAC) championship title for the first time.
"Being able to win the OVAC championship was a significant achievement for our soccer program. The moment the game went final and we won the title is something I won't ever forget," said Lohmann.
Even more than the title, Lohmann emphasized that the program has made strides in laying a solid foundation for the program that goes well beyond the wins and losses.
"This team was filled with great kids, and it was an honor to be able to coach them this season. We are looking forward to building on that success as we get ready for next season."