Community
Posted on May 2, 2013
In biblical community, no one is insignificant. From the smallest in stature and youngest in age to those who have walked this earth for years, everyone can contribute something. Everyone is important.
Now you are the body of Christ, and each one of you is a part of it.   – 1 Cor. 12:27 NIV
Trinity Christian School community members are living illustrations of this truth. Moms and Dads spruced up our flower beds and playground on a recent work day. Faculty and staff worked alongside volunteers to make Academic Day a success for student participants. Paul Mascioli's legacy lives on at Warrior Park, touching the lives of student-athletes from Trinity and the Morgantown community. Excitement is building as students and supporters set goals to read, walk, golf and bowl for ENDURE2013. And everyday, students are engaging in academic disciplines informed by a Christian worldview.
What a blessing it was to have parents cheerfully weeding flower beds and sprucing up the grounds around the school!
An Art Festival was just one of the competitions held during Academic Day.  Students were also able to participate in the Science Fair, Social Studies Fair, Math by Mail, Music Festival, and Speech Meet as Trinity welcomed students from 5 other West Virginia Christian schools for this annual event.
The TCS High School choir relaxed after their performance at Academic Day.
High School and Middle School band students have been busy this season with multiple competitions. They will join the High School and Middle School choirs for the upcoming Spring Concert on May 13th.
It was a beautiful day at Warrior Park when the baseball field was named Paul E. Mascioli Field and dedicated posthumously to former coach and visionary Paul Mascioli.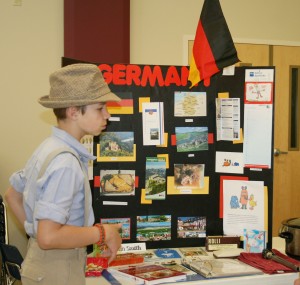 The fifth grade annual Nations Fair has gained a reputation for good food, eye-catching displays, and well-informed students who share fascinating facts about the countries they represent.
From origami frog races in English (based on the reading of Mark Twain's The Notorious Jumping Frog of Calaveras County) to frog dissection in Biology, our students experience our varied curriculum hands-on.
In the end, it all comes back to our mission: to help accomplish God's purpose in the lives of students, teachers, staff, and parents as disciples of Jesus Christ, resulting in a positive influence on our community, our nation, and the world.