Holidays, HOBY, and the hometeam!
Posted on July 12, 2018
Summer campers condensed yearly celebrations into a single, holiday-themed week, using the days for crafts and games to commemorate Christmas, the Fourth of July, and more. They even sang Christmas carols for the summer staff!
Meanwhile, our high school students are using the summer to develop their leadership skills. Trinity senior Katy Kessler attended Rhododendron Girls State. Not only did she learn about leadership, citizenship, and patriotism, she also made wonderful new friends. "The most memorable aspect of Girls State was the genuine camaraderie among all the girls who were complete strangers," said Katy. "I'd never experienced such kindness and friendliness from a group of people who, days before, knew nothing about each other."
Her sister Emily, a junior, attended the Hugh O'Brien Youth Leadership Seminar, otherwise known as HOBY. "HOBY was such an amazing experience. I learned about the potential power that all the teens in West Virginia have and also made great new friends."
This slideshow requires JavaScript.
Rising seniors Jack Barnett and Daniel Woods represented Trinity at Mountaineers Boys State. To view the photo gallery of their activities, click here.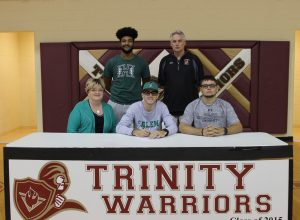 America's pastime rounded out recent activities as 2018 Trinity graduate Caleb Moats committed to extending his baseball career at Salem University. Congratulations, Caleb!
This slideshow requires JavaScript.
Lastly, our summer campers cheered on the Pittsburgh Pirates as part of their sports week. There is never a dull moment at Summer Camp!