Kris and Maggie (Graham) Warner '09
Posted on February 24, 2014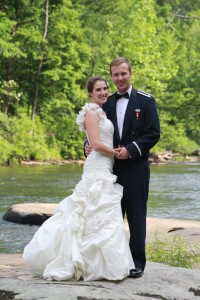 Trinity Alumni Kris Warner and Maggie Graham were married on June 8, 2013. Kris, a Second Lieutenant, is attending graduate school at the Air Force Institute of Technology in Dayton, OH where he studies Computer Science and Electrical Engineering. Maggie is working as a staff nurse in the Critical Decisions Unit at Kettering Health System, also in Dayton.
Kris graduated from the United States Air Force Academy in May 2013 with a bachelor's degree in Computer Science Engineering. He served as Squadron Commander his senior year. Kris is the current Student Body President at AFIT.
Maggie graduated Magna Cum Laude from WVU School of Nursing in May 2013.  She was inducted into the Sigma Theta Tau International Honor Society of Nursing her junior year. Maggie received the BSN Alumni Leadership Award her senior year and served as Co-President of the Student Nursing Association.