Nominate a 2023 TCS Champion Today
Posted on November 2, 2022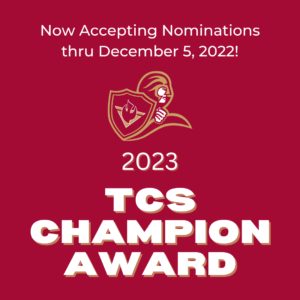 Nominations for the 2023 Trinity Christian School Champion Award are being accepted now through December 5, 2022. Nominators are invited to recommend an individual who is worthy of recognition due to their service to and support of Trinity Christian School. A selection panel will review the nominees based on the following criteria: Spiritual Investment, Service Investment, Financial Investment, and History of Commitment. The selection panel will then make a recommendation to the Gala Committee. The 2023 Trinity Christian School Champion will be notified by January 15, 2023, and honored at the Spring Gala on April 29, 2023.
Nomination Guidelines:
Nomination submissions must be received at Trinity Christian School by December 5, 2022, to be eligible for consideration for the 2023 Champion award.
Nominators are encouraged to present a strong narrative to demonstrate the nominee's commitment to Trinity Christian School based on the criteria listed above.
Nominators are allowed one nomination per year.
Past Trinity Christian School Champions are not eligible for nomination.
If the nominee is not selected as a Champion this year, they are eligible for nomination in future years.
To nominate an individual for the 2023 Trinity Christian School Champion, please fill out this form and attach a concise written description of why the nominee should be considered as a Trinity Christian School Champion. Feel free to include supporting documentation. (Supporting documents will not be returned.)