Press in to press on
Posted on February 8, 2018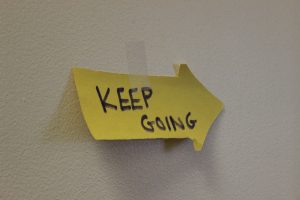 Did you ever feel you were hard-pressed on every side? Between sickness and weather and heartbreaking loss, our school community has been there in recent days. It can be overwhelming. But when you're pressed hard, it's time to press in hard to our Father. Doing so helps us to dig down and see where He is at work. The result? Thankfulness rises in our hearts. Here are just a few of the gems for which we are thankful today.
Our students:  During an impromptu conversation, prompted by a student survey, a few high school students shared with staff members suggestions for school improvements that would be easily implemented. They also shared some wisdom and showed that they understand and observe much more than we realize at times. Our students are engaged. They didn't mince words about areas they would like to see changed yet they value and are grateful for much that they have received here at Trinity. The mission is getting accomplished by God's grace. It's imperfect and needs continual work but HE is the one that produces the fruit and it was a good reminder to rest in Him while we labor.
Our parents:  We have parents who want to see the work here grow and flourish. Between clubs and athletics, social activities and more, they are willing to invest time, talent, and treasure to come alongside us. They aren't satisfied with where we are because they can see where we can be! That is pure GOLD! 
Our team:  We have a team of faculty and staff that have big dreams for the school and their classrooms. For an example, a Book Fair that librarian Andrea Steptoe has been planning for months is a little over a week away! We have teachers excited about rethinking their rooms and workspaces for their students. Ownership and vision for the betterment of students and professional growth – that's exciting!
Our faith:  Lastly, there is a grassroots acknowledgment among our faculty and staff of our deep need for God's strength resulting in a greater desire for prayer and fasting. This is a work of the Spirit alone and it is exciting and humbling.
This slideshow requires JavaScript.