The WELL – Early Education

Welcome to the WELL or Warrior Early Learning Lab for infants through preschool at Trinity Christian School! At the WELL, we strive to nurture your child in a loving, Christ-centered environment to help them grow intellectually, physically, socially, and spiritually. WELL programs begin at age 6 weeks and extend through preschool.
Why a learning lab? The WELL is staffed by experienced and caring teachers who will gently guide your child through a full day of developmentally appropriate educational activities. We use a hands-on approach to early education while meeting and exceeding milestones and standards. Our program features biblical integration and outdoor learning experiences. As children develop from infants through preschool, our curricular experiences continue to build on a strong biblical foundation while exceeding West Virginia's Core Knowledge and Competencies.
Why the WELL? Biblically, wells were the center of the city and a source of life. We recognize that the tiniest people are our future. By pouring into these little ones and giving them a good start in their educational journey, we are demonstrating that we see each one as valued and life-sustaining members of our communities. We acknowledge Jesus as the ultimate life-source for our school and desire to point our littlest Warriors to Him so they can be filled. (John 7:37-38)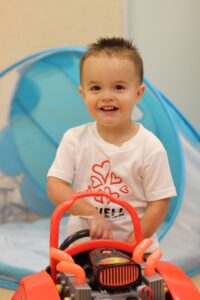 The WELL Application Process
To apply, please contact Brandi Young at byoung@tcswv.org.
Submit Live Birth Certificate – please provide original and we will make a copy.
Submit up-to-date immunization form(s).
Submit most recent well-child check-up.
If under 3 months, a signed note from child's pediatrician permitting child into care.
Schedule and attend family interview
Next Steps
Once we receive the completed application, your child will be placed on our waitlist. After being placed on the waitlist, families will be notified when an appropriate position becomes available and invited for a family interview. Families will be given 48 hours to respond to our invitation. If the family has not responded to a notification in the allotted 48 hours, the next family will be notified.