Tuition Schedule and Assistance
2018-2019 TCS Pre-School Tuition and Fee Schedule (coming soon)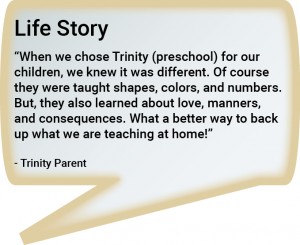 2018-2019 TCS Kindergarten through 12th Grade Tuition and Fees Schedule (coming soon)

Financial Policy and Tuition Grant Program
Payment: Tuition for the following school year (2018-19) begins on July 1, 2018.  For the convenience of parents/guardians, TCS currently offers three tuition payment plans:
Annual Plan – full tuition due on July 1 (A $250 savings grades K5-12). Payment Methods:  personal check or ACH debit
Semi-Annual Plan – two equal tuition payments are due on July 1 and January 1. Payment Methods:  personal check or ACH debit
Twelve Month Plan – twelve equal tuition payments are due monthly, July through June. Payment Method: A FACTS account is required for 12-month payment plans
Enrollment Fees:  All new students enrolling must pay a new student enrollment fee of $120 for each new K-12 student and $100 for each new preschool child, sign an enrollment agreement, and complete the enrollment process at TCS.
Tuition Credit: All Trinity families are offered tuition credit opportunities by using the SCRIP program and for referring a new family. SCRIP rebate credit is applied in September, January, and April.  Family Referral Credit will be applied when a new student is accepted and maintains enrollment in grades K-12.  The referring family must have children currently enrolled and will receive up to $1500.00 tuition credit for each new student.  If the new student applying is in preschool, the family will receive up to $240.00 in credit for each new child.  If a family reaches a zero tuition balance, there will not be a credit for future balances or a cash refund.  Board and faculty/staff members are not eligible for referral credit.  Referral credit will be awarded when/if the new family identifies the referring family during the enrollment process.  The new family must complete a referral form to validate the referral.
Trinity Christian School Tuition Grant Program
It is the desire of the Board of Trinity Christian School that no child be turned away due to finances.  Each year the Board budgets tuition income to be used for grants that are based on need.
To be considered for a tuition grant, a family must demonstrate financial need and the student(s) must be enrolling in grades K-12.  To determine a family's financial need, Trinity Christian School uses FACTS Grant and Aid Assessment.  Families applying for a tuition grant at TCS must submit a FACTS Grant and Aid Application, one for each parent in the case of separated or divorced parents, providing detailed information to FACTS.  Then FACTS evaluates the information based on a formula nationally accepted by over 2,600 educational institutions.
Many parents believe that their income level is the sole determinant in qualifying for a tuition grant.  Although income plays an important role, it is not the only factor in determining financial need.  Other factors include parent assets, number of children in tuition-charging institutions, family size, age of parents (allowing for retirement savings), and level of outstanding debt (consumer debt, mortgages, other loans, etc.).
In addition to its consideration of these factors, FACTS protects a certain level of income based on family size.  This process helps determine "Income after Core Expenses" and a portion of that is then suggested as the family contribution for education.  The result of the evaluation is sent to Trinity.  While these figures serve as good benchmarks, Trinity's distribution of tuition grants uses the FACTS recommendation only as a guide.
Despite a strong commitment to our tuition grant program, each year the number of students who qualify for tuition grants is more than we can fully support.  TCS seeks to distribute tuition grants to all those who show a need.
The deadline to apply for financial assistance is May 1.  Tuition grants are awarded until funds are no longer available. Families who have completed the tuition grant and application processes and have been accepted will be mailed a letter indicating the tuition grant award.  By signing and returning the letter, a family accepts the award.  Families who choose not to return the tuition award letter by the specified date may have their award revoked for redistribution to other candidates.