Seeing Double: Matching Gift Update
Posted on January 16, 2018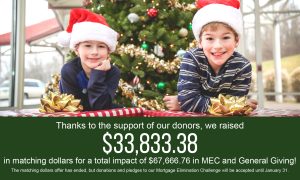 We want to extend our thanks to all who contributed to Trinity Christian School during our Year-End Gift Match period. During the last few weeks of December 2017, year-end and Mortgage Elimination Challenge gifts combined for $33,833.38 and resulted in dollar-for-dollar matched funds for a total impact of $67,666.76! We especially want to thank the generous donor for the gift match!
Even if you missed the Year-End Gift Match, you can still make a donation to Trinity.
To give via ACH, click here.
To give via Credit Card, please click here.
To give via PayPal, please click here.
We are so grateful for your support!