Soaring into summer
Posted on June 14, 2018
"but they who wait for the LORD shall renew their strength; they shall mount up with wings like eagles; they shall run and not be weary; they shall walk and not faint."  ~  Isaiah 40:31
Let's be real. After months filled with hard work and extra-curricular activities, students and staff might feel a little weary. Summer is a great time for renewed strength and vision.
Back on campus, our mission to educate for life continues. Summer camp, new family interviews, the three-week sports practice session — all are focused on serving students with next year in view.
This slideshow requires JavaScript.
Not sure if hawks can soar as high as eagles, but both are raptors. Susanne Coulson of the WV Raptor Rehabilitation Center allowed a hawk to perch on her hand while describing the characteristics of raptors to captivated students at Summer Camp. In keeping with this week's animal theme, campers took a trip to the Pittsburgh Zoo using our new bus.
This slideshow requires JavaScript.
Shhh….it's a surprise! Before the year ended, first-grade students drew portraits of their dads for Father's Day. Summer campers also made some cards and crafts for their dads.
This slideshow requires JavaScript.
It's always great welcoming student-athletes back to campus for the three-week summer practice session. Go, Warriors!!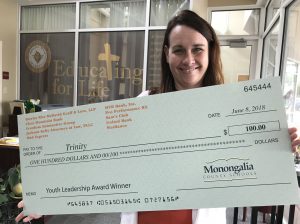 Trinity received a Youth Leadership Award of $100 at the annual Monongalia County Partners in Education breakfast for our student mentorship program. We also received a $400 book grant from the Service League of Morgantown. We are so thankful to be a part of the Morgantown community!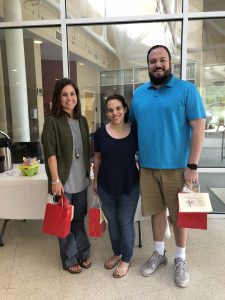 It's always bittersweet to say goodbye to teachers and staff when they move on from Trinity. We're thankful for their contributions to our school and send them off with our prayers and best wishes.