Trinity Offers 3-day Summer Coding Workshop
Posted on June 16, 2021
Has your child dreamt of creating their own video game but didn't know how to start? Or maybe you're an educator who wants to hone your coding skills.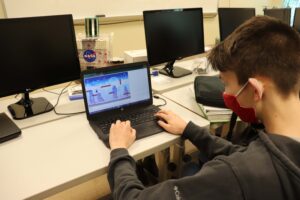 Either way, this 3-day coding workshop is for you! Programming concepts will come to life as you learn to utilize the Pygame modules through hands-on learning, problem-solving, and discussion.
As an attendee, you will walk away from this workshop with a solid understanding of the python programming language as well as a fully functional video game that you design and code!
Who can attend?    6th grade – 12th-grade students, teachers (public, private, and homeschool), and any adult interested in coding
When?    June 28, 29, and 30, 2021 at 8:30 AM – 3:30 PM
Where?     Trinity Christian School (TCS) Advanced Makers Laboratory (Room 210) located at 200 Trinity Way, Morgantown, WV 26505
Cost?     $150.00 (Attendees are responsible for their own lunches and snacks)
Scholarships are available. Please contact Marcus Fisher at mfisher@tcswv.org or (304) 612-4993 for more information
Additional information:
Attendees will receive copies of the material suitable for their own classroom
View the course description here.
To Register or Request More Information:     Contact Marcus Fisher at mfisher@tcswv.org or call:  (304) 612-4993
Instructor Biography:
Professor Marcus Fisher has been teaching computer science classes at the University-level for over 20 years and at the middle and high school levels for over 3 years. Professor Fisher has worked at NASA for over 20 years as a computer engineer, software engineer, and systems engineer. For the past 5 years. Professor Fisher is working to enhance WV's education system by providing hands-on programming, electronics, robotics, and cybersecurity training to students and teachers across the state.