Trinity to host spring Open Houses
Posted on February 8, 2017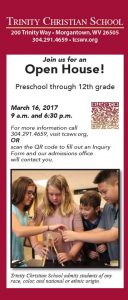 We are excited to welcome prospective families to Trinity for an Open House. on March 16, 2017. We offer a morning session at 9 – 10:30 a.m. and an evening session at 6:30 – 8 p.m.
Students and parents will have an opportunity to meet the staff, tour the building, and learn more about our preschool through twelfth-grade program.
Preregistration is not required, but it is suggested. To preregister, please complete our Inquiry Form. If you are unable to preregister, registration will be available onsite at the event.
For more information call 304.291.4659.
We look forward to welcoming you to Trinity Christian School!