A different perspective
Posted on April 14, 2016
We're changing it up on the blog today! Don't worry – we still have great photos of our students and their activities. But I want to start off by sharing former student Olivia Kelley's unsolicited perspective on Trinity through her post on the Odyssey website.  Because Olivia happens to be my daughter, I was hesitant to share it. In the end, I felt her viewpoint provides valuable insight into the Trinity experience. You can decide for yourself by reading it here. (Sharing this post does not imply endorsement of the Odyssey by Trinity Christian School.)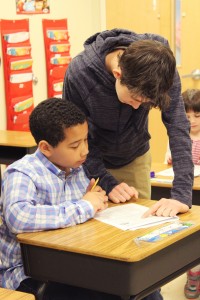 One of the advantages of a K-3 through 12 school is that older students can mentor the younger ones. Eighth-graders recently shared their knowledge of West Virginia history with the second-grade class using slide presentations and worksheets.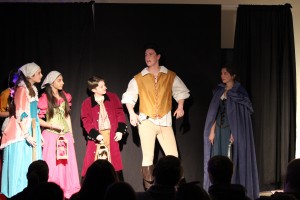 The cast of Beauty and the Beast gave a preview of the show during the secondary chapel. Performances are April 21, 22, and 23 at 7:00 pm and April 23 at 3:00 pm at The State Theatre in Uniontown, PA. Tickets are $10 for adults and $5 for children 10 and under. They are available at the door and in the school office during normal school hours.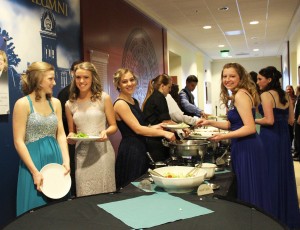 It was wonderful to see our students and their guests eating, laughing, and dancing together at the Spring Formal.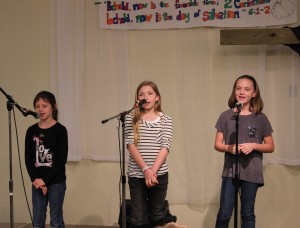 This trio sounded great as they practiced their performance for "TCS Has Talent", a special elementary chapel scheduled for Friday, April 15, 2016.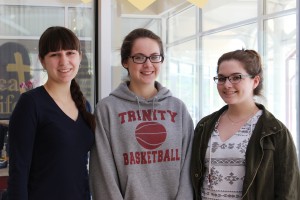 Congratulations to Elizabeth Satterfield, Abby Goff, and Belen Turak who qualified to compete at the State Social Studies Fair!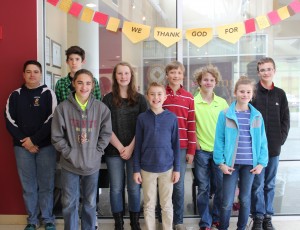 Tanner Lawrence, Fletcher Hartsock, Gabe Turak, Regan Baker, Ian Comstock, Ethan Thomas, Brady Mudry, Samantha Guenther, and Zack Murray qualified for the Regional History Bee. Of the eight students who traveled to the competition, four moved on to the National Bee that will be held this June in Chicago. Ian Comstock, Samantha Guenther, Brady Mudry, and Regan Baker advanced, with Ian and Samantha placing in the top 8! Congratulations to all!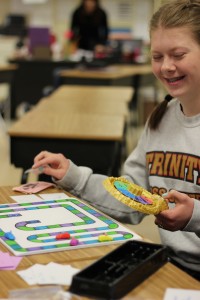 The Geometry class had fun learning about geometric probability by creating games that relied on angle measurements using a spinner or an area with tossing.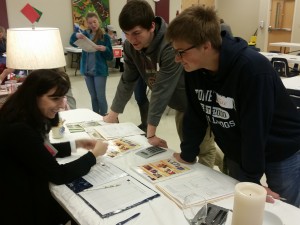 Once again, the folks from Fairmont Federal Credit Union presented Mad City Money to Trinity juniors. Our students should have a better perspective of money management upon completing the budgeting simulation.