Be strong and courageous
Posted on August 18, 2017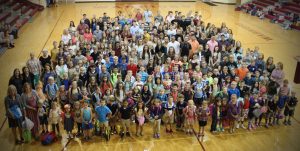 Emotions were high yesterday morning as families and students gathered at the school for the first day of classes. Friends shared smiles as they reconnected, and families took advantage of the photo booth in the lobby. Excitement, anticipation, apprehension, even touches of sadness, were evident as families experienced the "firsts" and "lasts" that the first day of school brings.
Upon gathering in the gym to start the year with prayer, Spiritual Advisory Board member Pastor Jason Sheffstall shared the theme and verse for the 2017-2018 school year:  "Be Strong and Courageous" as taken from Joshua 1:9 (ESV).
"Have I not commanded you? Be strong and courageous. Do not be frightened, and do not be dismayed, for the Lord your God is with you wherever you go."
It's a good reminder to us all.
To the new student who ventured into unknown territory:  Be strong and courageous!
To the parent who dropped their daughter or son off for the first time:  Be strong and courageous!
To the teacher in front of a new class:  Be strong and courageous! 
To the senior who is faced with choosing a college: Be strong and courageous! 
Wherever you are, whatever you are facing as this new school year begins: Be strong and courageous, Trinity! The Lord your God will be with you as you seek after Him. We're off to a good start for the year!
This slideshow requires JavaScript.