Class of 2015 exceeds $1 million in Scholarships!
Posted on May 30, 2015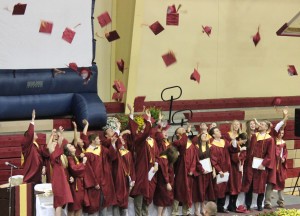 The Trinity class of 2015 is making its mark! The twenty-six members of the class have collectively earned over $1 million in accepted scholarships. The students received their diplomas on May 29 at 7:00pm in the Trinity gymnasium.
The following is a list of the senior awards and scholarships.
Scholarships:   
United States Air Force Academy Award  —Dominic Raymond, III
United States Senate Youth Program Scholarship — Dominic Raymond, III
West Virginia University Presidential Scholarship — Angelyn Gemmen, Sophia Podolinski
West Virginia University Mountaineer Scholarship  — Matthew Dlugos                                    
West Virginia University Vandalia Scholarship — Abigail Barnett, Daniel Dawley, Joshua Earl,  Megan Myers
WVU Dependent Employee Scholarship — Megan Myers
West Virginia University Valedictorian Scholar — Abigail Barnett
A.B. Miller Scholarship — Olivia Kelley                                                                    
Waynesburg University Scholarship — Olivia Kelley  
Stephen J. Laut, S. J. Scholarship — Christian Pierce Griffith
WV Wesleyan Dean's Scholarship — John "Jack" Goellner
WV Wesleyan Scholar — John "Jack" Goellner
WV Wesleyan Education Scholars — John "Jack" Goellner
Thomas C. Stewart Memorial Scholarship — John "Jack" Goellner
UM Partnership Church Match & Scholarship — John "Jack" Goellner
West Liberty Presidential Scholarship — Emily Evans
West Liberty Athletic/Soccer Scholarship — Emily Evans    
VA Survivor & Dependent Education Scholarship — Janice Tyndell
SCAD Achievement Honors Scholarship — Janice Tyndell
SCAD Incentive Scholarship — Janice Tyndell
OVAC Volleyball Scholarship — Presley Jordan
Fairmont University Neighbors Scholarship — Presley Jordan
Fairmont University Falcon Scholarship — Presley Jordan
OIC Training Academy Scholarship — Bridgette Smith
Bethany Merit Scholarship — Justin Everly
ACSI Distinguished Christian High School Students:
Dominic Raymond, III — Outstanding Achievement in Academics, Leadership, Christian Service, & Athletics
Pierce Griffith — Outstanding Achievement in Academics, Leadership, Christian Service, & Athletics
Abigail Barnett — Outstanding Achievement in Academics, Leadership, Christian Service, Athletics, & Fine Arts
Olivia Kelley — Outstanding Achievement in Academics, Christian Service, Athletics, & Fine Arts
Awards:
Daughters of the American Revolution Citizenship Award — Hope Donham                                   
Dominion Post Honor Students — Dominic Raymond III & Abigail Barnett
West Virginia Promise Scholars —  Jaclyn Alderman, Abigail Barnett, Daniel Dawley, Matthew Dlugos, Joshua Earl, Emily Evans, Angelyn Gemmen, Jack Goellner, Pierce Griffith, Olivia Kelley, Megan Myers, Sophia Podolinski, Dominic Raymond III
Ronald Reagan Presidential Foundation Award — Abigail Barnett, Pierce Griffith, Sophia Podolinski, Dominic Raymond III
Honor Society Members  — Jaclyn Alderman, Abigail Barnett, Daniel Dawley, Matthew Dlugos, Emily Evans, Angelyn Gemmen, Jack Goellner, Peirce Griffith, Olivia Kelley, Tyler McLaughlin, Megan Myers, Sophia Podolinski, Dominic Raymond III, Catherine Rondy
AP Scholar with Honor — Dominic Raymond III
School Awards:
Debbie Clawges Math Award — Matthew Dlugos                                   
C. S. Lewis English Award — Angelyn Gemmen
Charles Wesley Award — David "Daniel" Dawley & John "Jack" Goellner                         
Eric Liddell Athletic Award — Matthew Dlugos                        
Outstanding Artist Award — Hope Donham                                                                          
Outstanding Vocal Award — Miranda Martin                                               
Outstanding Community Service Award — Emily Evans    
Outstanding French Award — Jaclyn Alderman & Angelyn Gemmen
John Phillip Sousa Award — Joshua Earl                                                     
Podium Award — Miranda Martin                                                           
Voice of Trinity Award — Pierce Griffith
Isaac Newton Award — Sophia Podolinski
David Ramsey Award — Pierce Griffith