Courage
Posted on November 2, 2017
What does courage look like?
Do you picture a first responder running into a raging fire? Or Daniel, facing the lions unafraid? We each have a list people who embody courage to us.
For those of us who attended last week's secondary chapel, our list grew by one more name.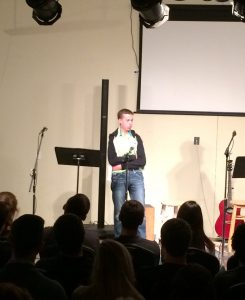 When the Trinity senior Evan shared his story about some of the challenges he faced since early childhood, we heard the voice of courage. Courage in the midst of life's difficulties. Courage rooted in trusting God. Inspiring courage. Humbling courage. Real courage.
Evan's story is a poignant reminder of the school's annual verse, "Have I not commanded you? Be strong and courageous. Do not be afraid; do not be discouraged, for the LORD your God will be with you wherever you go."
Through stories like Evan's and others, our students can be reminded that if you find your courage in God's faithfulness, you will have the strength to persevere through any circumstance.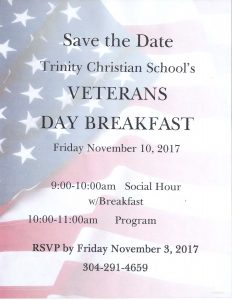 There is still time to RSVP to our annual Veterans Day Breakfast and Program honoring the courageous men and women who have sacrificed so much in service to our country. But don't delay. Responses are requested by tomorrow, November 3.
This slideshow requires JavaScript.
Students packed up Hurricane Relief donations they collected from the school community.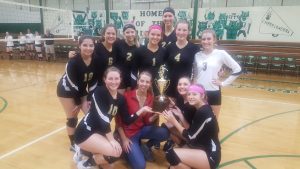 Congratulations to the HS Volleyball team for finishing as the runner-up in the Mason Dixon Conference tournament! They also finished second in sectional play and move on to the regional tournament this weekend!
This slideshow requires JavaScript.
Both the HS Cross Country team and the MS Volleyball team recently ended their seasons. We're proud of all they accomplished this year!
This slideshow requires JavaScript.
Second-grade students decorated t-shirts in a creative book report project.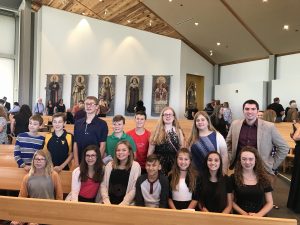 The Trinity school choir attended a  performance by the WVU choir concert.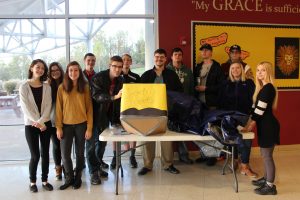 The Physics class participated in the Pumpkin Drop at WVU.