Dale-Palmieri ('13) wed
Posted on September 4, 2014
Trinity alumni Angelo Palmieri and Sarah Dale (both class of '13) were married this past August in a
beautiful outdoor ceremony. They were surrounded by family and friends, many with Trinity ties,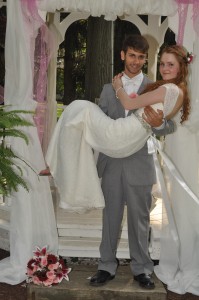 who joined in celebrating their union. Members of the wedding party included alumni Gabrielle Smith, Hannah Friend, Sarah Mitchell, Chad Johnson, and Josh Jarvis. Samuel Dale, current TCS student and bride's brother, served as best man. The wedding was officiated by former TCS chaplain Seth Campbell.
Angelo expressed the significance of having former classmates present for their special day. "Most people have an assorted wedding party where most of the wedding party don't know anyone else involved, but in our case it was like having our family right there beside us, supporting us and witnessing our union."
Sarah and Angelo are continuing their undergraduate studies at Brock University in St. Catharines, Ontario where they currently reside. Sarah is a Chemistry major, while Angelo is majoring in Biology and Music.