Eyes on the prize
Posted on April 27, 2017
It's crunch time. Graduation and the last day of classes are a month away. Teachers and students alike are preparing for year-end celebrations while finishing up academic material. In the midst of so much activity, it's important to keep our eyes on the prize.
Therefore, since we are surrounded by so great a cloud of witnesses, let us also lay aside every weight, and sin which clings so closely, and let us run with endurance the race that is set before us, looking to Jesus, the founder and perfecter of our faith, who for the joy that was set before him endured the cross, despising the shame, and is seated at the right hand of the throne of God.  ~  Hebrews 12:1-2
As a Christian school community, we want to look to Jesus for the strength to finish the year well. He is our prize and our reward. Teaching our students to work, play, sing, compete, perform and serve to honor Him is how we can walk out our mission day to day.
This slideshow requires JavaScript.
Fireman Andy taught fire safety to preschool and kindergarten classes before the Easter Break. Thank you, Fireman Andy, for a great presentation!
This slideshow requires JavaScript.
Some elementary classrooms took the opportunity to create Easter and spring crafts prior to spring break. We appreciate the parents who helped with the fun activities.
This slideshow requires JavaScript.
Looks like the high school baseball team had a great time at Myrtle Beach for spring break training and bonding. Thanks to the coaches and parents for planning a wonderful trip.
This slideshow requires JavaScript.
Ranger Chip Nelson visited the fourth and second grades prior to their field trips to Fort Necessity and Washington Tavern. He came dressed as a French soldier and gave historical facts regarding the battle of Fort Necessity.
This slideshow requires JavaScript.
The first performance of "Pure Imagination" is this evening at 7 p.m. in the Trinity Chapel. If you can't make tonight's performance, we have two more shows for you: Friday, April 28, and Saturday, April 29 – both at 7 p.m. Tickets are $5 at the door.
This slideshow requires JavaScript.
Second grade made ice cream in a bag for a special treat.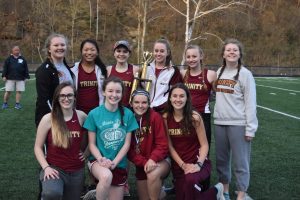 The high school girls' track team placed second at the Mason Dixon Conference Meet. A couple of school records were broken at the meet: Reagan Sharp broke the discus record with a distance of 70′-11″ and the boys 4x100m relay team of Kyle Diven, Austin Hinerman, Cole Sinclair, and Frank Kerekes set the school record at 53.5. Congratulations!
These young ladies recently presented their project at the Regional Social Studies Fair in Fairmont. Congratulations on a job well done!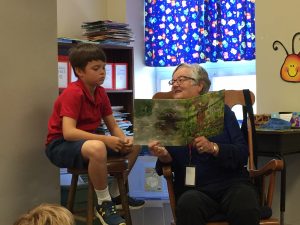 We love having parents and grandparents help with read-aloud. This grandmother has read to her grandson's class seven times this year. That might be a new record! Thanks to all of our volunteers who help with classroom and extra-curricular activities.