Fall Festival 2017
Posted on September 13, 2017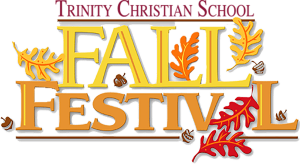 Thank you to all of our volunteers and families who made our first Fall Festival in 2016 a success! We welcomed more than 350 people to our campus and look forward to seeing everyone again this year.
This year's Fall Festival will be on Saturday, October 21 from 11 a.m. to 4 p.m. All families are welcome to join us for face painting, pumpkin picking, inflatables, food and more! Admission at the gate is just $10 per person or $40 per family. Children 2 years or younger are admission-free! Admission purchased prior to Oct. 20 will receive a coupon redeemable for one free hotdog or popcorn at Fall Festival. Families may pre-purchase admission by calling the main office at 304-291-4659.
Fall Festival is hosted by Trinity Christian School located at 200 Trinity Way, Morgantown, WV 26505. Please contact kmorgan@tcswv.org or 304-291-4659 to pre-purchase admission tickets or to ask questions.
Fall Festival Opportunities
We welcome local businesses to set up a vendor or promotional table at Fall Festival. For more information, please see our Vendor Registration. 
Local businesses who would like to sponsor our Fall Festival will receive special recognition! Please see our Sponsor Opportunities form.