Good soil
Posted on October 26, 2017
The parable of the sower is a common one. Jesus, speaking of sowing seeds on a different types of ground, made it clear that good soil was key to yielding a crop. At Trinity, we are tasked with daily sowing into the lives of our students. Teachers and coaches, administrators and staff members attempt to help students understand everything from spiritual principles to academic concepts to artistic endeavors and more.
We're not alone in cultivating these young lives. We aim to work alongside parents, pastors, and community members who have the same goal: seeing our students reach full maturity in all areas of life.
May we do it well for the glory of God.
This slideshow requires JavaScript.
Thanks to all who came out for the Fall Festival fundraiser! It was a gorgeous day filled with family fun, wonderful vendors and fabulous food! We especially want to thank our Fall Festival sponsors Valley Healthcare System, Laurel Mountain Orthodontics, and Clear Mountain Bank.
To see more great pictures of the Fall Festival, visit our Fall Festival Facebook page here. While you're there, be sure to "Like" the page!
This slideshow requires JavaScript.
The fourth-grade class learned about soil and more when they visited the WVU Organic Farm, Greenhouse, and Entomology Museum on a field trip designed to enhance the students' study of FOSS science. Dr. Jim Thompson, a soil scientist, explained soil mapping and how to analyze soil pits while Entomologist Vicki Kondo assisted students with their understanding and exploration of insects.
This slideshow requires JavaScript.
We appreciate the pastors who sow the Word of God into the lives of our students and families. It was wonderful to welcome some of them to the school for Pastor Appreciation Day!
This slideshow requires JavaScript.
By the looks of the pictures, the students and teachers enjoyed a middle school reward trip to the WVU rec center!
This slideshow requires JavaScript.
Linda McCoy's Novel and Film students used their talents and creativity to write an essay and design a project demonstrating their understanding and insight into The Lord of the Rings trilogy as part of their exam for the quarter.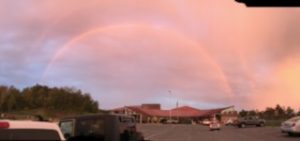 An amazing rainbow over the campus this week reminds us of God's promise to us! We're thankful for His grace!