Harmony
Posted on July 28, 2016
Merriam-Webster defines harmony as "the combination of different musical notes played or sung at the same time to produce a pleasing sound" or "a pleasing combination or arrangement of different things".
During this week's camp, the Trinity band members are diligently working to combine the individual sounds of their instruments to create harmonious music – music that they will perform this coming Monday (August 1, 2016) for the Mon County Fair Parade.
But the word harmony refers to more than just music. It speaks of relationship, of putting yourself aside to work together.  The word of God encourages believers to do just that.
"Live in harmony with one another.."            ~  Romans 12:16 ESV
Whether it's through band camp, class projects, athletics, or performances, we want our students to learn that each of them has something to of value to contribute and that, when they combine their efforts and talents, together they can create beautiful things.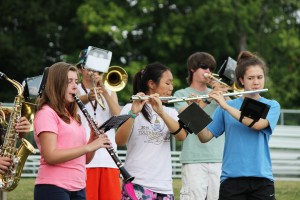 Come support the band on Monday, August 1, 2016! The parade will be on High Street in Morgantown with a start time of 7:30 pm. Enjoy this sneak peek video!
It was great to welcome Trinity graduate Alea Hess back to the school to share her expertise with members of the Trinity drumline. Alea is entering her junior year at West Virginia Wesleyan where she is studying pre-physical therapy and is a member of the marching band.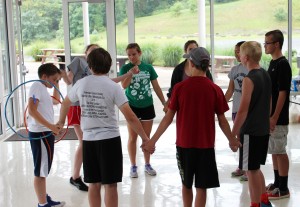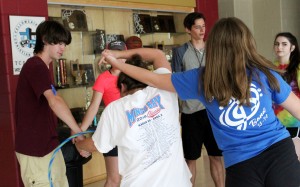 Band members and majorettes spent time away from their instruments and batons for team-building exercises.

Congratulations to baseball team members Noah Jones and Tucker Livengood for being named to the Dominion Post all-area baseball team! Both were recognized for their exceptional play at the Pitcher/Infielder positions.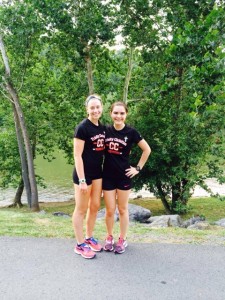 Training partners and Trinity athletes Emily Saurborn and Piper McLaughlin sported their Trinity spirit wear when they placed third and second respectively in their age group at the Jim Dunn Run earlier this summer. Congratulations!