Harvest time
Posted on September 29, 2016
You can't have a harvest if you never plant a crop. And for young plants to grow, the sprouted seeds need cultivation. With all the hard work that precedes it, no wonder the harvest signifies great celebration.
"Let us not become weary in doing good, for at the proper time we will reap a harvest if we do not give up."

~ Galatians 6:9 NIV
The Word of God is filled with literal and metaphorical references to the harvest. Every day, seeds are being planted and watered in the lives of our students; seeds that will one day bring a harvest of answered prayer, mastery of a subject, or the greater development of their talents. The hard work will pay off if we don't give up.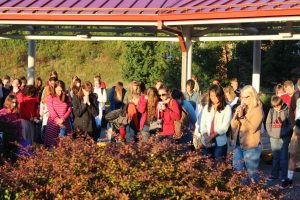 Yesterday, students led the school community in a time of prayer around the flag for See You At the Pole.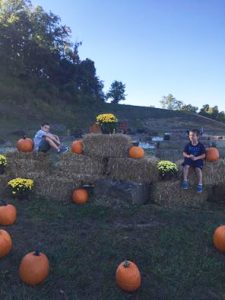 The Trinity Pumpkin Patch is open for business. Stop by during school hours or visit the Pumpkin Patch Facebook page for special sale times. Don't forget the First Annual Fall Festival is right around the corner, on October 15. It promises to be a wonderful family event! To learn more, visit the Fall Festival Facebook page here.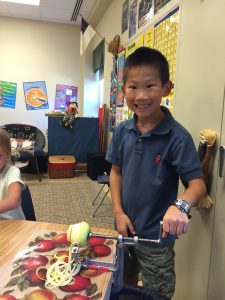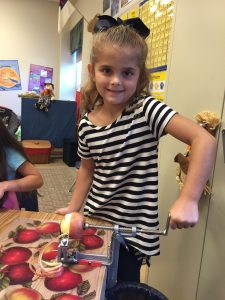 The first-grade class spent a week celebrating apple harvest season. They learned about the cycle of an apple tree and tried different apple treats each day. On Friday they peeled and cored apples which they cooked into applesauce.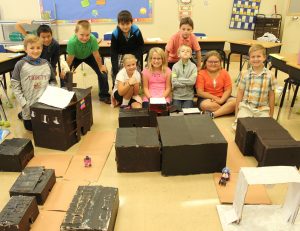 A week of research and hard work paid off when the third-grade class completed their model of a colonial village.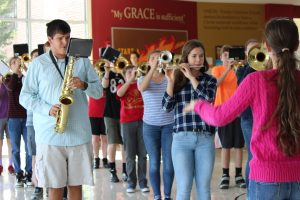 The band is sounding great after weeks of practice. They are marching at the Buckwheat Festival this evening and in the WVU Homecoming Parade tomorrow night!
You can watch a sneak peek here. Please come out and support the band!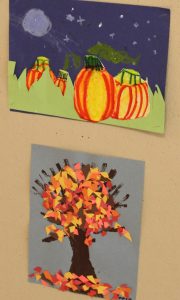 This elementary art display is vibrant with the colors of autumn! We welcome you to stop by at the end of the school day to view the students' work.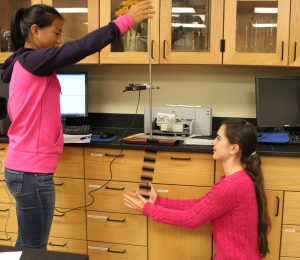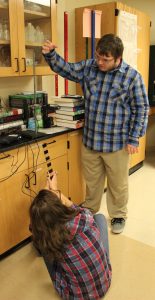 The AP Physics class used computer sensors to calculate gravity for the "Picket Fence" lab.