Now playing
Posted on July 9, 2015
Good athletic competitions are very often dramatic. All the elements of a good story are there: protagonists and antagonists engaged in a tenuous conflict that eventually climaxes in a victory.
The Trinity community recognizes that sports often play a leading role in the lives of our students. During the 2014-15 school year alone, 77% of our high school students were members of at least one athletic team, with many of them participating in multiple sports.
We want to encourage our student-athletes to use their God-given gifts for His glory while employing biblical principles in training and competition. Regardless of wins or losses, it is our desire that each Trinity Warrior ends his or her season with "good memories, new friends and life lessons to assist in serving the Kingdom." (TCS Athletic Handbook)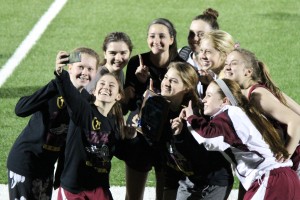 The following members of Trinity sports teams received recognition for their achievements during the 2015 spring season.
Baseball:  All-State Honorable Mention — Justin Everly and Noah Jones; OVAC All-Conference — Justin Everly
Softball:  Dominion Post All-Area team and OVAC All-Conference — Julie Williams
Track:  All-State — Abbie Barnett, Pierce Griffith, Presley Jordan, Olivia Kelley, Piper McLaughlin, and Emily Saurborn; Mason Dixon All-Conference — Abbie Barnett, Daniel Dawley, Michael Gharib, Presley Jordan, Olivia Kelley, Olivia Kinkade, and Piper McLaughlin; OVAC All-Conference — Abbie Barnett, Daniel Dawley, Matt Dlugos, Josh Earl, Michael Gharib, Jack Goellner, Pierce Griffith, Presley Jordan, Olivia Kelley, Piper McLaughlin, and Emily Saurborn
Congratulations to all!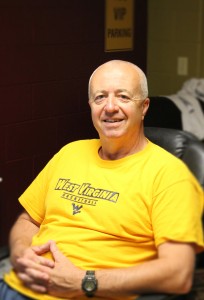 Cary Woods is the new TCS Athletic Director for the 2015-16 school year. A former basketball player, Cary has extensive coaching experience including six years as head coach of the Trinity girls' basketball team. He's gearing up for the start of the fall sports season which begins the first week of August. Welcome, Cary!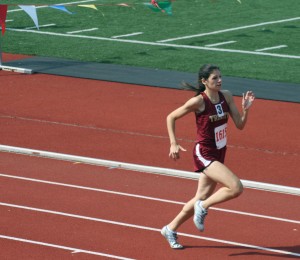 It's not unusual for a Trinity athlete to try out a new sport for the first time in high school, even as an upperclassman. When the school first offered track and field in 2012, then-senior Brianna Kerekes  realized her dream of running competitively. This past season Brianna, currently a member of the WVU cross country and track teams, qualified for the NCAA regionals in the 1500 meter run.
Recent graduate Pierce Griffith was a seasoned basketball player when he decided to give track and field a try for his senior year. He ended up achieving all-state honors by placing fourth in the high jump at the State Meet in Charleston. Click on the video or visit our Life stories page to hear about Pierce's high school experience at Trinity.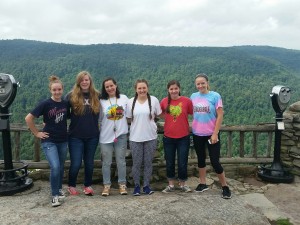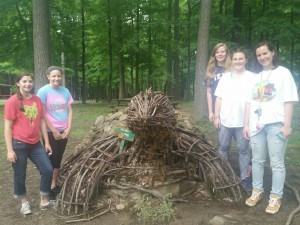 During the 3-week summer practice session, members of the girls' high school volleyball team gathered for a 7-mile hike at Cooper's Rock for team bonding.
The boys' basketball team competed in a few summer league games during the three-week practice session. Come December, we'll be cheering on the Warriors in the Trinity gym!