Part of the community
Posted on April 26, 2018
We are part of a wonderful community! Our school receives so much support from parents, grandparents, pastors, friends, and public servants who invest time, talent, and treasure to see our students learn and grow. In turn, we value providing our students with opportunities to give back through quarterly service days.
It takes some extra effort on the part of our teachers and parent volunteers to coordinate schedules and match up classes with age-appropriate projects for Community Service Days. The time and energy are worth it when our students realize the impact their service can have on the local community. They can make a difference through their service, just as the sacrifices made by others have impacted them.
This slideshow requires JavaScript.
Members of the Brookhaven Fire Department visited the Early Education classes to speak with students about fire safety.
This slideshow requires JavaScript.
Hunter Hart's grandfather, who writes children's books, shared his work with the kindergarten class. He also performed a song about courage.
This slideshow requires JavaScript.
Students worked on campus and throughout the area for the last Community Service Day of the year! Pictured in the slideshow are the fourth and fifth graders serving at the Ronald McDonald House, and the second and third graders making care packages for the Bartlett House. 
This slideshow requires JavaScript.
Dr. Kym Scott, Director of Choral Activities at WVU, shared tips with the middle school choir class in preparation for the upcoming Arts Gala and Concert on Tuesday,  May 1. The doors will open at 5:30 p.m. to allow guests to view the art exhibits. The concert, featuring music performed by students in grades kindergarten through high school, will begin at 6:30 p.m. Please join us in support of the arts at Trinity!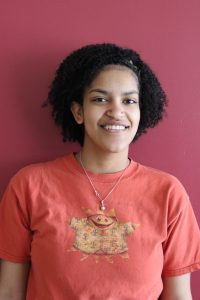 Congratulations to senior Yohanna Berhanu! She won a $2000 scholarship through the Colombo Law Distracted Driving Scholarship Program for writing an essay about distracted driving from a personal perspective.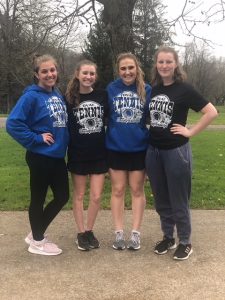 Our Tennis Team traveled to the OVAC this week. The #1 doubles team of Molly Rubinstein and Sarah Seitz won their first round against University High School with a score of 8-6. They lost in the second round to the #4 seed, Linsly, 8-3.
Despite losing in the first round, our #2 doubles team of Regan Baker and Cailtyn Nine continues to show improvement. Win or lose, we're proud of all these ladies!
An important member of the Trinity community, Chairman of the Board Todd Dlugos, is kicking a bad habit and helping Trinity at the same time! Watch the video to learn more! To follow Todd on his journey, join his Facebook group here. To come alongside Todd through a gift to Trinity, click here.