Proper introductions – Part 2
Posted on August 3, 2017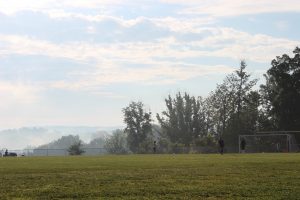 It is a sure sign that school is about to start when the fall athletic teams begin to fill the campus for their practices. Just like the athletes, the administration, faculty, and staff are getting into shape for the school year by meeting, training, and setting up classrooms.
We also continue to welcome new teachers to the team. As promised in the last blog, we are pleased to introduce additions to the 2017-18 secondary faculty in this post.
We'll start off with Robert DeWees (not pictured) who will teach chemistry and physics. Mr. DeWees, a graduate of Glenville State, earned a B.A. in Chemistry with a minor in Physics as well as a B.A. in Education. He is in the process of making Morgantown his new home as he joins the Trinity faculty.
Rachel Ridgway is the new High School History Teacher. She received her B.A. in History and African-American Studies from the University of Arkansas and her M.A. in Secondary Education from West Virginia University. Mrs. Ridgway has been a substitute in Monongalia County as well as at Trinity Christian School while finishing her Masters the last two years. She is active in the Civics and Democracy for Citizenship and Education for West Virginia University as well as other history fairs around the county. When Rachel is not teaching, she enjoys spending time with her family, church activities, reading, painting, and watching movies.
After a season of staying home with her children, Marcie Kincaid returns to TCS to teach secondary math. She previously taught at Trinity from 2000-2006. Mrs. Kincaid has 7 years of teaching experience and received her degrees from WVU. She holds a B.S. in Secondary Education – Mathematics, a B.M. in Music Education, and an M.A. in Secondary Education. Welcome back!
After serving as a long-term substitute in our music department, Luke Diamond joins us full-time as the Band and Choir Director. Mr. Diamond is a graduate of WVU where he studied conducting, composition, and vocal performance. His experience includes serving as a guest conductor of the WVU Community and Men's Choirs, choir director of the Spruce St. United Methodist Church, and music director for various theatre companies. 
While we prepare for their return, our students are expanding their skills and garnering real-world experience during the summer months. Rising junior Daniel Woods recently spent 5 days at the Washington Journalism and Media Conference. We want to thank Daniel for sharing his first-hand account, below.
I recently attended the Washington Journalism and Media Conference (WJMC), which is a part of the Washington Scholars Program on the campus of George Mason University. Throughout the week, I, along with nearly 300 other like-minded students, attended speeches, seminars, and roundtable discussions with media members from outlets such as Fox News, CNN, and C-SPAN. We attended these events on campus at George Mason University, as well as sites in Washington D.C., including the National Press Club. In addition, we toured the Newseum, saw the sights of the city, and had the opportunity to meet with the Congressional representatives from our states on Capitol Hill. Personally, I scheduled a meeting with Senator Shelley Moore Capito and was able to meet with her, and as a result of that meeting, Senator Joe Manchin as well. The senators were very welcoming and meeting them was a perfect bookend to my week in Washington. WJMC was one of the greatest experiences of my life that I will not soon forget.  ~  Daniel Woods
Also a rising junior, Emma Chase participated in the WV Governor's School for the Arts. Emma conveys her thoughts on the experience as follows. Thank you, Emma!
I had no idea that spending three weeks talking about art with 120 strangers would have such an impact on me. GSA aka the Governor's  School for the Arts this past year was located at Marshall University in Huntington, West Virginia. After a process of applying and auditioning, I got into the school with my major discipline being acting. The other art forms represented at GSA are Dance, Vocal Music, Instrumental Music, Digital Art, Studio Art, and Creative Writing. While learning more about and working on my craft in acting, I was able to collaborate with and learn from artists in other disciplines. It was such a blessing to see how the arts affect people my age, allowing them to express themselves in ways they could not before. I personally was able to improve my skills in acting while simultaneously learning from and being supported by my peers. Involvement in the arts is formed through vulnerability, and it was refreshing to be so encouraged when throwing myself out there. Through multiple classes, performances, and the trip to Chicago, I grew so incredibly close to everyone at GSA, especially those in my acting group, the "Shakespeople". Not only did we become friends, but a family whose time spent with I will always remember. GSA introduced me to extremely talented peers with similar interests and reignited my flame for the arts. I highly encourage any student interested in the arts to apply for GSA, for it is an experience you will never forget.  ~  Emma Chase