Rolling out the honors
Posted on January 14, 2016
Honor Rolls aren't exclusive to schools. Do a web search on "honor roll" and you'll find lists of honorees for everything from academics to service to giving. It seems we have an innate desire to pay respect and honor to those who go above and beyond. We're no different at Trinity. We want to recognize and honor the members of our school community, especially our students, for their achievements. To read the list of Trinity secondary students who made the Honor Roll in the first semester, click here.
We also want to recognize the generosity of Greer Industries and Anderson Excavating, as a few of the many companies and individuals who support Trinity. They recently upgraded and repaired the gravel parking lot and our driveway to the school, just before the wintry weather hit. We are so grateful for both companies donating the supplies and labor to make this project possible. Thank you so much for your ongoing support of Trinity Christian School!
And speaking of donations, we are excited and grateful to announce that over $36,000 has been collected for the Bridging the Gap end-of-year campaign, with some donations still coming in. Thanks to all who contributed!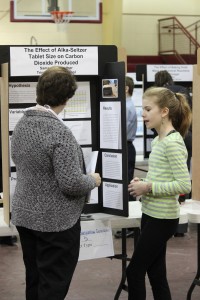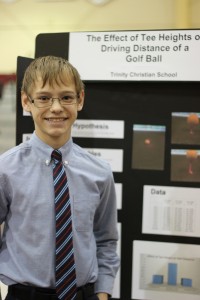 The Trinity Science Fair for grades 5, 7, and 9 took place today. Professionals from the community, including employees from Mylan Pharmaceutical, NIOSH, West Virginia University as well as other biomedical/bioengineering firms, served as judges for the event. Don't miss the Science Fair Extravaganza tonight in the gymnasium at 7:00 pm. Students will present their projects first, followed by the presentation of awards at 7:30 pm.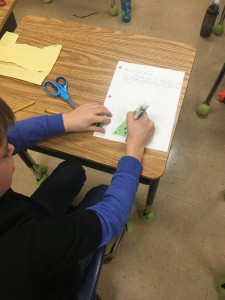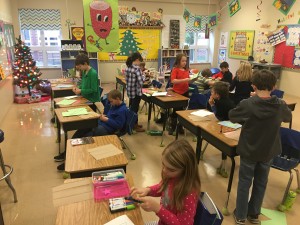 Third-grade students honored and encouraged servicemen and women by sending them Christmas cards last month. The students have already received a message of thanks for their kindness and support of the troops.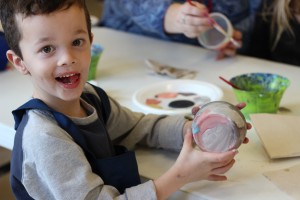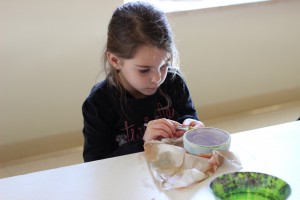 Kindergarten students were rewarded for their good conduct over the last nine weeks with a special treat. They used their artistic abilities to decorate bowls from the WOW Factory for the upcoming Empty Bowls luncheon. Afterwards, they decorated a cute animal figurine to keep for themselves.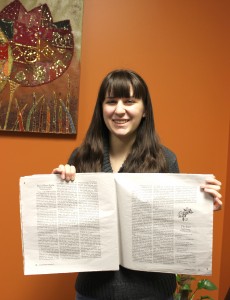 Senior Elizabeth Satterfield is now a published writer. Her piece "Back Home Again" was selected to appear in Volume 33 of The Apprentice Writer at Susquehanna University. According to their website, the annual publication "features the best writing and illustrations from nearly 4,000" submissions received yearly from U.S. secondary students. (http://www.apprenticewriter.com/) Congratulations, Elizabeth!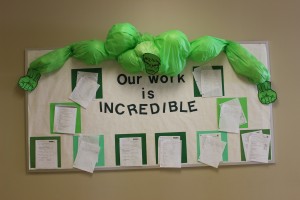 Fifth-grade students are honored for their "incredible" work on this bulletin board in the elementary wing of the school.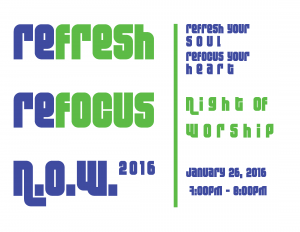 Make plans to join the Trinity high school Praise Team in honoring our Savior, Jesus, at the annual Night of Worship! Prepare to be refreshed and refocused with an evening of praise and prayer beginning at 7:00 pm in the TCS Chapel on January 26, 2016.