Settling in
Posted on August 29, 2013
Do you remember moving into a new home? The boxes are scattered everywhere. The smallest things – salt and pepper shakers, the remote, your favorite sweatpants – elude you. There are no pictures on the wall. You're home, but it doesn't feel like home quite yet.
The first days of school can feel that way. New schedules, new students, and new teachers: it takes some time to get familiar with the unfamiliar. Then you start to settle in.
It's settling in time at Trinity Christian School. With almost two full weeks behind us, students and faculty alike are getting familiar with each other and with the new routine. We're even getting pictures on the walls. It's feeling more like home.
But, don't mistake "settling in" with "settling for" or comfort with complacency. The administration, faculty, and staff are continually evaluating and adjusting current methods and programs, while making plans for additional ones. The constant amidst the change? The goal of improving our school in order to help accomplish God's purpose in the lives of our students.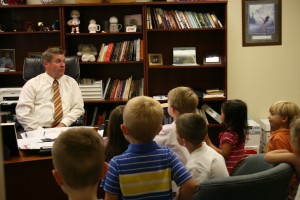 Can you spot the bunny? To help K4 students get familiar with their new surroundings, they are taken on a bunny hunt throughout the school. Here they meet Superintendent Mr. Howard, as they look for the bunny in his office.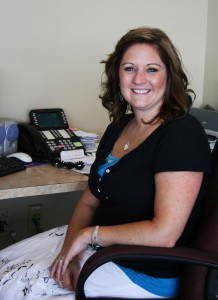 Mrs. Amy Hagedorn is settling into her new role as the receptionist for Trinity Christian School. As the mother of two TCS students, Amy was already a familiar face at the school. We're very excited to have her as a part of the Trinity office staff!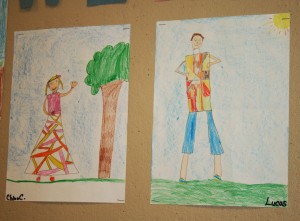 First grade students' colorful self-portraits contribute to a homey feeling in the Elementary hallway.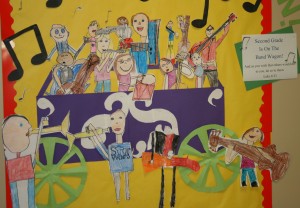 You can almost hear music when passing this collaborative art piece depicting a joyful band created by the second grade class.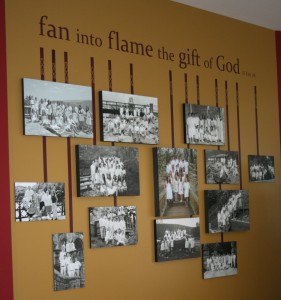 Located in the school lobby, the collage of TCS senior class photos now includes a picture of the Class of 2013.