Shining brighter
Posted on April 19, 2018
But the path of the righteous is like the light of dawn, which shines brighter and brighter until full day.  ~  Psalm 4:18
This is the verse chosen by middle school students for their spring social called "Here We Glow Again." What an impactful promise! Isn't it reassuring to know that as we follow the Lord, He promises to make our path brighter and brighter?
Wonderful activities have taken place this past week in academics, athletics, arts, and more! Through them all, we strive to point our students towards the only One who can help them navigate this life, and light their path to eternity. That's what Educating for Life is all about!
This slideshow requires JavaScript.
There was a great turnout for the middle school spring social! "Here We Glow Again" featured music, dancing, games, food, and fun—all with a radiant theme!
This slideshow requires JavaScript.
The preschool and kindergarten students had a great time visiting the WVU Farm!
This slideshow requires JavaScript.
The Early Education classes hosted Donuts at Dropoff to honor the men who impact the students' lives.
This slideshow requires JavaScript.
The cast of The Lion King Jr. treated the secondary students to a sneak peek of their upcoming production during chapel today. Performances are April 26 through April 28, 2018, at the Metropolitan Theatre in downtown Morgantown. Tickets can be purchased online via this link or at the door. For complete details visit our Facebook event page here.
This slideshow requires JavaScript.
We are so proud of our student-athletes! To keep up with their achievements, follow our Facebook page.
This slideshow requires JavaScript.
Mr. Paul Walker, architect and grandfather of a Trinity student, visited the fourth-grade class to explain architecture to the students. WVU Occupational Therapy students, including TCS graduate Hayley Wise, made a presentation to students in Anatomy class.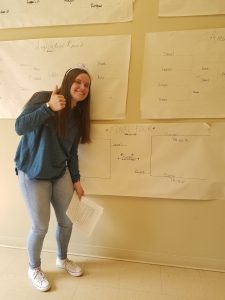 The AP United States History class did an intense March Madness-style debate competition focused on influential presidents, supreme court cases, legislation, and more. Congratulations to Reagan Sharp for winning it all.