Step by step
Posted on March 26, 2015
Can you imagine navigating through life without maps, manuals, or instructions? From performing science experiments to recreating a favorite recipe, it's no accident that instructions are listed step by step. While each action may not seem to accomplish much individually, the intended goal is achieved when the steps are completed in succession. Conversely, things don't turn out quite right when you skip one.
As educators in a pre-K3 through grade 12 school, our goal is to guide and equip our students to progress from learning the most basic skills to mastering complex concepts. We count it a privilege to be a part of their lives as they grow step by step.
Hobbies & Collections Day is a great first step in public speaking for second graders. After creating a display centered on their favorite pastime or collectible, each student presents it to the elementary student body and guests. The class was surprised and delighted when retired teacher Mrs. Morris came for their special day!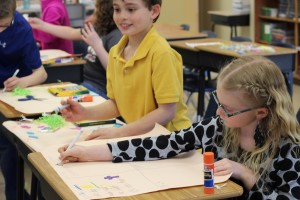 As the culmination of their study of creation in elementary Spanish class, second and third grade students fashioned pictures depicting the events of each day, labeling them with the corresponding Spanish terms.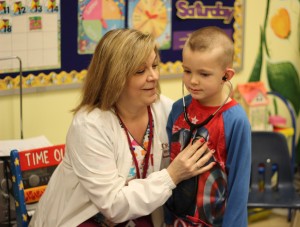 "Sick days" are fun when you and your K4 classmates wear pajamas to school and have a visit from the school nurse!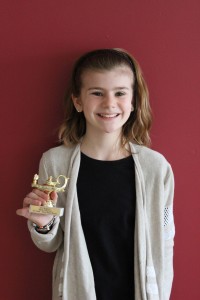 Trinity student Samantha Guenther placed 3rd at the Regional Math Field Day. She is now headed to the state competition, which will be held in a few weeks at Concord University in Bluefield.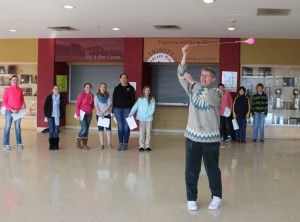 What may look like a party game is actually Dr. Campbell demonstrating for her science students the effect of centrifugal force on gravity and tides, as part of a unit on Tides and Currents.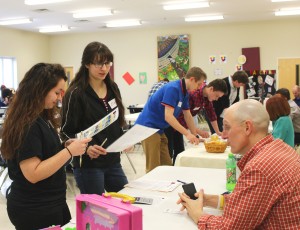 Our high school juniors learned how to apply financial principles to real-life situations at Mad City Money. Thanks to the folks at Fairmont Federal Credit Union, our partners at Citynet, and the parent volunteers for making this experience possible for our students!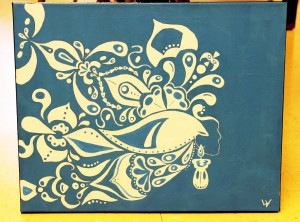 Our students have been hard at work creating functional and decorative artworks in preparation for the annual Art Gala tonight, March 26th, from 5:30-7:30pm! You will have the opportunity to bid on your favorites in a Silent Auction. The event is free, with the proceeds from the auction benefitting the art department.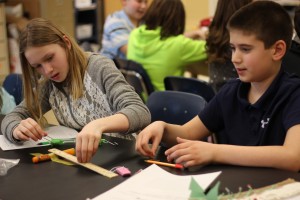 5th graders are studying simple machines in science. They focused on the three types of levers in a recent lab.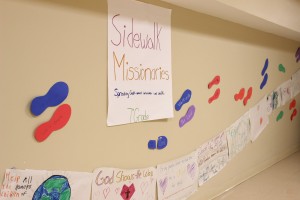 Hallway art created by the seventh grade class encourages the reader to share the gospel as we walk our Christian walk step by step.