Students compete at State Science Fair
Posted on April 13, 2015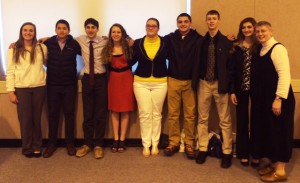 In the words of their teacher Dr. Campbell, "Trinity Christian School had a phenomenal day at the state science fair!" Students from throughout the state of West Virginia entered approximately 60 projects in 15 different categories for the 2015 WV State Science and Engineering Fair in March. All eight Trinity participants placed, and three students were recognized with special awards for their entries.
The results are as follows:
Emma Barber – 2nd place in Microbiology
Riley Davenport – 3rd place in Physics and Astronomy
Ellena Gemmen – 2nd place in Medicine and Health Sciences
Michael Gharib – 1st place in Microbiology
Keira Hill – 3rd place in Chemistry
Jacob Martin – 2nd place in Environmental Sciences
Jay Merrifield – 2nd place in Chemistry
Tristen Nine – 1st place in Mathematics
Jay Merrifield received The Arizona State University Walton Sustainable Solutions Award. In addition, the South Central Association for Clinical Microbiology awarded a $75 prize to Emma Barber and a $100 prize to Michael Gharib.
Congratulations to all of the students!