TCS Drama to perform Into the Woods Jr.
Posted on April 21, 2015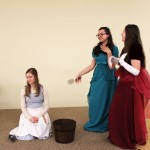 The Trinity Christian School Drama Department is proud to present Into the Woods Jr. April 30 – May 2, 2015 in the Trinity Christian School Chapel.
Performances will be held on Thursday (April 30) at 7:00pm, Friday (May 1) at 7:00pm, and Saturday (May 2) at 7:00pm. Tickets are $5.00 and you can pay when you pick up your tickets the night of the performance. To make seating reservations please call Amy Hagedorn at Trinity Christian School at 304-291-4659 and refer to the seating chart below. Seating is limited. Any questions about the show can be directed to Drama teacher Nathan Boone at nboone@tcswv.org.