TCS Science Fair Extravaganza 2016
Posted on February 4, 2016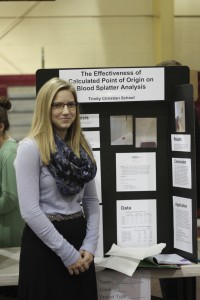 On a wintry January morning, the Trinity gymnasium was transformed into the 2016 Science Fair Extravaganza. Projects lined rows of tables as students from grades 5, 7, and 9 presented their findings for adjudicators from the local scientific community, including representatives from Mylan, WVU, and NIOSH. The competitors fielded tough questions, with the students' research occasionally sparking debate between the judges.
The students' preparation and the caliber of their projects were noted by the panel of professionals as evidenced by remarks received following the fair.
"At their age it is tough to get up in front of your peers to present a project and it takes a lot more guts to stand in front of a poster and defend the experiments they did in front of a complete stranger scoring them," expressed one judge. They continued, "I am blown away! They all did such a fantastic job and it was such a humbling experience."
Another judge shared their observations, commenting, "I was very favorably impressed with your science fair. Most impressive was the display that each student had printed and assembled. The consistency in their displays shows mainly superior guidance. Congratulations."
For many of the students, their entry in the Science Fair Extravaganza qualified them for the Regional Fair or the Association of Christian Schools International (ACSI) Academic Day. The complete list of students and their awards appears below. Congratulations to all!
Fifth grade:
Jocelyn Annon – Second place; Kane Eanes – First place; Hayes Galloway – First place; Samantha Guenther – First place; Dakota Hagedorn – Second place; Paige Hammack – First place, Champion, Academic Day; Riley Hinebaugh – Second place; Jarrett Kimbrell – Second place; Kyle Knight – First place; CeCe Moran – First place; Charles Nemecek – First place; Jaden Sheffstall – First place; Bess Shoemaker – First place; Jayden Strope – First place; Camden Wilhelm – First place, Champion, Academic Day; Isaac Wong – First place; Rennick Wotring – First place
Seventh grade:
Trevor Cooke – Second place; Ryan Cummins – Second place; Gracie Emery – Second place; Anna Galloway – First place, Regional; Troy Greskevitch – First place, Regional; Liv Miller – First place, Regional; Megan Olfert – Second place; Alexa Reed – Third place; Finn Sinclair – Second place; Jaclyn Smith – First place, Regional; Mason Steptoe – First place; Regional; Kaitlyn Strope – First place, Regional; Ethan Thomas – First place, Regional, Academic Day; Kaitlyn White – First place, Champion, Regional, Academic Day
 Ninth grade:
Jack Barnett – First place, Regional; Briston Bennett – First place, Regional; Lauren Bowlin – First place, Champion, Regional, Academic Day; Emma Chase – First place, Champion, Regional; Kate Dlugos – First place, Regional; Claire LaPlante – First place, Champion, Regional; Jon Morley – First place, Regional; Morgan Mullens – First place, Champion, Regional; Joel Robertson – First place, Regional; Rachel Rosen – First place, Regional; Reagan Sharp – First place, Regional; Belen Turak – First place, Champion, Regional, Academic Day; Blake Wolfe – First place, Regional; Daniel Woods – First place, Regional; Logo Zervos – First place, Regional