Thankful giving
Posted on November 21, 2013
It was a reveal that rivaled an episode from a home decorating show! When Trinity guidance counselor Teresa Barnett saw her redecorated office for the first time, she was overwhelmed with surprise and gratefulness.
"I was humbled by their generosity," said Mrs. Barnett, when asked about surprise transformation.
The spirit of generosity in the school is contagious, with the guidance office makeover being just one of many thoughtful examples. Parents and grandparents are lending their time and their talents to assist with organizing and sprucing up areas of the school. From making over the Athletic Director's office to installing an ice maker, members of the Trinity community are continually seeing needs and working to meet them.
While the beautiful and well-organized spaces will help staff and students to accomplish our daily mission, the impact extends beyond the visible realm. Our families are modeling giving to our students in extraordinary ways. The students, in turn, are giving of their resources as well, from collecting for various community groups to offering kind words and deeds to fellow classmates. Thankfulness and giving lead to more thankfulness and giving. It's a joyful cycle.
You will be enriched in every way to be generous in every way, which through us will produce thanksgiving to God.  –  2 Corinthians 9:11 (ESV)
Mrs. Teresa Barnett is still recovering from the shock of her beautiful office makeover.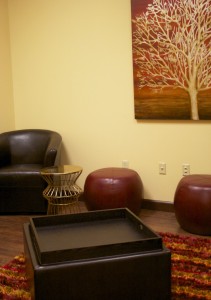 A student study area, adjoining the guidance office, was recently created from a previous storage room.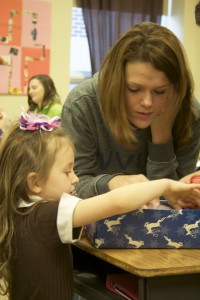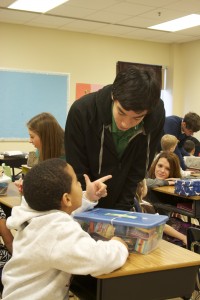 After organizing the school's annual collection for Operation Christmas Child, seniors met with K5 students to learn how they chose items for the outreach.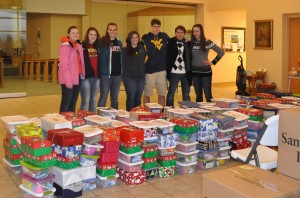 Trinity students collected close to 300 shoeboxes, which the seniors then delivered.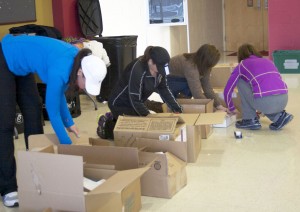 Following up after the Veterans Day program, parent-volunteers boxed up contributions for military families as a part of Operation Gratitude.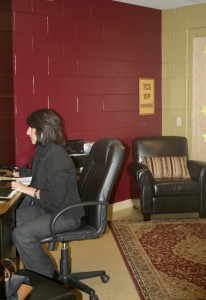 Athletic Director Alexis Basil has enjoyed her recently renovated office, complete with Trinity Warrior colors.