Three-fold cord
Posted on January 11, 2018
Ecclesiastes 4:9-12 conveys a beautiful picture of why we need one another.
Two are better than one, because they have a good reward for their toil. For if they fall, one will lift up his fellow. But woe to him who is alone when he falls and has not another to lift him up! Again, if two lie together, they keep warm, but how can one keep warm alone? And though a man might prevail against one who is alone, two will withstand him—a threefold cord is not quickly broken.
Our school community is built and strengthened as we encourage and help one another. It is inspiring to see the impact that teachers, coaches, volunteers, and students can have when they take the time to invest in others. We are blessed to witness the weaving of lives into strong relationships held together by God. Created by Him, they are cords that can withstand tests and time.
This slideshow requires JavaScript.
After sowing into the ministry at Trinity for many years, Mrs. Kalyn Pierson was honored by the student body through song, a show of appreciation, and a prayer of blessing as she transitions to a new phase of her career. We're grateful for her years of service!
Mr. John Fowkes, current head coach of the boys' basketball team, will pick up the role of middle school history teacher. We're thankful for his desire to impact our students in the classroom as well as on the court.
This slideshow requires JavaScript.
Love seeing our students being encouraged to grow in their mastery of a subject through hands-on projects! Fourth-graders wrapped up a geometry unit by creating marble mazes. The mazes include parallel and perpendicular lines as well as acute, obtuse, and right angles.
This slideshow requires JavaScript.
We're grateful for folks who sacrifice their time to visit our classrooms to share their skills and expertise. In this instance, the kindergarten class learned about quiltmaking.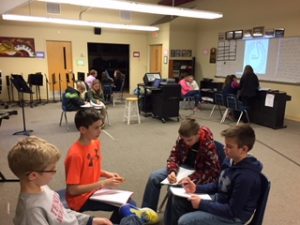 Fifth-grade band students worked together on a project to create their own form of musical notation.
This slideshow requires JavaScript.
Joyful laughter filled the gym during preschool play time.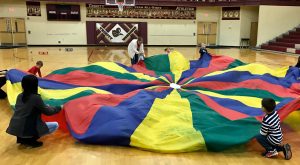 Wintry days can be a challenge for parents of toddlers. We want to come alongside local families by hosting Toddler Time again this year. The event is free and open to the community. For more information, click here.