Weary? Rejoice!
Posted on December 10, 2015
Let's be honest. This world can be a messy place – more like the smelly, dirty manger in Bethlehem than the pristine nativities that adorn our homes and churches. The messiness, the busyness, can wear us out.
Long lay the world in sin and error pining
Till He appeared and the soul felt its worth
A thrill of hope the weary world rejoices
For yonder breaks a new and glorious morn

~ O Holy Night  (Adolphe Charles Adam, John Sullivan Dwight, Placide Cappeau)
Our hope was born over 2000 years ago, found swaddled in cloths and lying in a nasty trough. A light in the darkness. We're thankful that we can point students to our Savior. He is the reason that we can rejoice!
The middle and high school bands and choirs combined their talents for an evening of joyous music for the annual Christmas concert last week. Thank you to the students and teachers for ushering in the Christmas season! Be sure to join us at 7:00 pm on Friday, December 11, at the Morgantown Christian & Missionary Alliance church for the elementary Christmas concert.
The Drama class presented Charles Dickens' A Christmas Carol – A New Version for the Stage by John Jakes, with its timeless message of redemption and transformation. Great job to the cast, crew, and directors!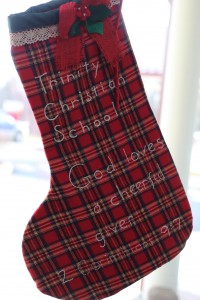 Have you wondered about the huge stocking the school's office window? We have a growing group of "Cheerful Giver" parents who are pooling their resources to support the Bridging the Gap year-end giving campaign.  To help us bridge the gap by donating now, click here. We are so grateful for our school community coming alongside us as we strive to Educate for Life.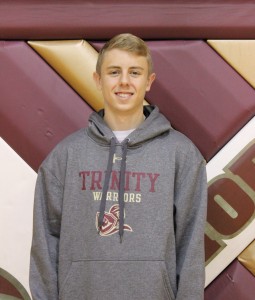 Senior Adam Robertson was named second-team All-State in soccer by the WVSSAC for class AA/A. Robertson scored 46 goals in the 2015 season. Congratulations, Adam!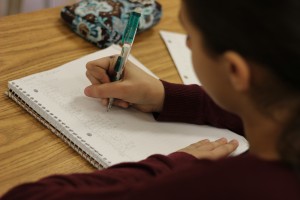 Congratulations to Zachary Workman, Samantha Guenther, Norah Chase, Ethan Thomas, and Saige Zervos! They were selected to represent Trinity in the upcoming Math Field Day competition.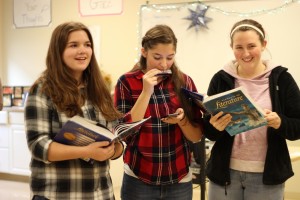 Why be ordinary? Students in a high school English class decided to take a creative approach when they sang, rather than read, the introduction to Homer's Odyssey aloud in class.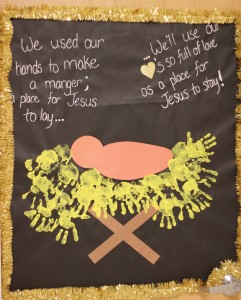 Reminders of the hope we have in Jesus are throughout the school. Rejoice! Our Savior has come!