Why Give?
One of the most commonly overlooked motivations for giving is the joy that giving brings the giver. According to 2 Corinthians 9:7, "God loves a cheerful giver." Trinity Christian School desires that you give with joy. Each gift we receive, regardless of size, allows the school to extend its impact. Each gift allows our faculty and staff to continue to minister in the lives of hundreds of children and their families. Your gift of your time, talent, or treasure is critical, and we thank you for your part in God's provision. May God bless you for your sacrifice. Luke 6:38 promises, "Give, and it will be given to you." We pray that you have been given joy!
Ways to Give
Mortgage Elimination Challenge
Our 2017 Mortgage Elimination Challenge is underway! If you would like to join us in our effort to eliminate the school's monthly mortgage payment, you can donate using this link.
For an ACH form, click here.
For a Credit Card Authorization form, please click here.
Please note that completed forms should be emailed to our Finance Manager at kwoods@tcswv.org.
No gift is too small! We thank you for your support.
Annual Fall Festival
The Fall Festival is a family fun event that reaches the entire community! There are many ways to support the school through the Fall Festival: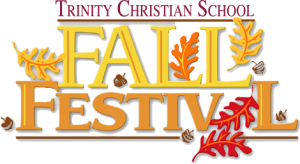 Be a Sponsor
Be a Vendor at our Craft/Vendor Fair
Committee Volunteering
Thanks to our friends and supporters who contribute their resources to make the Fall Festival a wonderful fundraiser!
Grants and Financial Aid
Tuition Grants
In keeping with the desire of the TCS Board that no child be turned away due to finances, like-minded donors have chosen to contribute to the Tuition Grants fund. Please contact the school office at trinity@tcswv.org if you are interested in contributing to the Tuition Grants fund.
Volunteer Central
Campus Development/Infrastructure/Facilities
Warrior Walkway – Leave your legacy for the next generation by purchasing an engraved brick or paver in the Warrior Walkway as part of the Trinity Pillar Project. (Read more about the Pillar Project here.) To access an order form, click here.
Athletic Complex Development

Become a stakeholder in the future of Trinity Athletics
Annual Maintenance

Playground

Annual grounds and equipment maintenance

Trinity Christian School Facilities Master Plan

Center for Visual & Performing Arts
Cafeteria & Gymnasium
Elementary Wing
Athletic Support Facility
Advertising, Naming Rights, and Sponsorships
Advertising

Gymnasium sign advertising
Stadium sign advertising
Sports program advertising

Naming Rights
Corporate Sponsorships – To learn more, please visit this page.
Other Ways to Support
Prayer committee – meets Tuesday at 8:00 am at the school
Parent Service Organization – The PSO offers a variety of ways to serve at Trinity Christian School
Annual Hoop-a-Thon – Become an event sponsor, volunteer, or sponsor a student when they shoot hoops or hula-hoop during this family-fun event held in late winter/early spring. The Hoop-a-Thon raised over $11,000 for the school in 2016!
Kroger Plus Community Rewards – It's easy to support Trinity through the Kroger Community Rewards program. Register your Kroger Plus Card at krogercommunityrewards.com. Sign In or create an account to enroll. Once signed in you can enroll or update your Community Rewards under your Account Settings. Designate Trinity Christian School as the charity using NPO#82178. Swipe your Kroger Plus Card when you shop at Kroger and the school earns rewards. It's that easy! Please note that you must update your information annually.
United Way – To make your pledge, designate CFC code #23729. Click here for a pledge card.